Draghi Will Just About Lift ECB Interest Rate Before Leaving
(Bloomberg) -- Mario Draghi will squeeze in one interest-rate increase before his term as European Central Bank president ends next year, according to a Bloomberg survey of economists.
Most respondents pushed back their expectations for a hike to September 2019, the month before Draghi is due to leave. The change is a response to policy makers' guidance that rates will remain at record lows at least through the summer.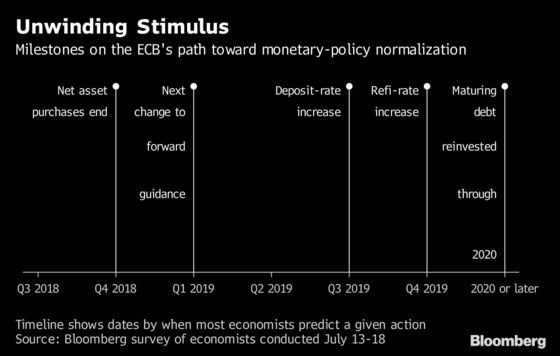 Barring a serious escalation of trade tensions or deterioration in the outlook, asset purchases are forecast to end this year, as announced, and economists don't expect an update on the policy path until March.
The next Governing Council meeting on Thursday is likely to be a quiet affair, with Citigroup economists saying the ECB is on "auto-pilot for the foreseeable future."
After policy makers took a leap toward unwinding unprecedented stimulus in June, Draghi reiterated his confidence in a sustained pick-up in inflation when addressing European lawmakers last week. He also emphasized that monetary support would remain substantial even after net bond buying stopped.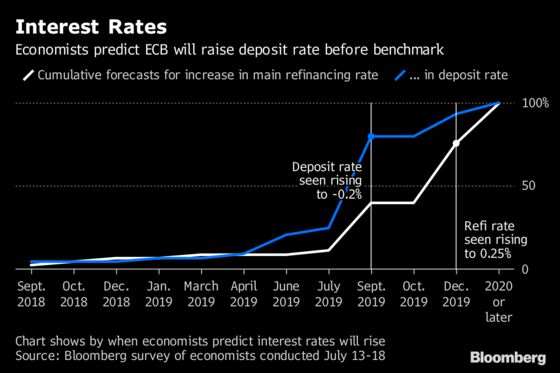 Economists predict the ECB will raise its deposit rate to minus 0.2 percent from minus 0.4 percent by September next year. An increase in the main refinancing rate, currently at zero, is seen by December 2019, after Draghi retires from the central bank. The timing of those forecasts was changed from the second and the third quarter, respectively.
An intensifying global trade conflict poses the biggest risk for the euro-area economy, the survey shows. Piet Christiansen, senior economist at Danske Bank, says he's watching confidence indicators carefully for any reaction to the spat between the U.S. and its partners.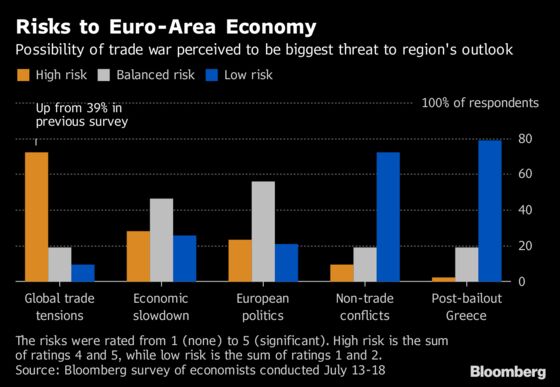 While policy makers have singled out protectionism as a prominent source of uncertainty, they've also emphasized the strength of the domestic economy. Momentum in the euro area's private sector has rebounded after a weak start to the year, and a surge in factory orders in the region's largest economy bodes well for activity ahead.
What Our Economists Say...
"The ECB has already made the last of its major decisions for the year and there's little scope for new announcements at its next meeting. However, the ability to implement those plans will depend on the cooperation of economic data. So far the releases have complied, but a significant fallout from a trade war could still cause the ECB to rethink its plans."

--David Powell, Jamie Murray, Bloomberg Economics. To read more: EURO-AREA PREVIEW: ECB Still to End QE, Trade War Looms Large
Economists say the bar is high for the Governing Council to change its mind and continue bond purchases next year. Among potential reasons they see are:
Deteriorating inflation outlook, with headline rate falling below 1%
Escalation of tariff disputes into full-blown trade war
Marked slowdown in economic growth and a slump in business sentiment
If all goes according to plan, respondents predict Draghi will provide more clarity about the exit path by March, including more specifics on the timing of the first interest-rate increase.
At the moment, "it's hard to make a strong argument for higher rates," said Merrion Capital's Alan McQuaid. "We wouldn't be surprised to see the Italian ending his eight-year term as president, on October 31, 2019, without having overseen a rate-increase. Even if there is to be a tightening cycle, it is likely to be fairly modest."