Top Emerging Bond Fund Sees Rout Deepening
(Bloomberg) -- As the chorus grows among strategists and investors that emerging markets are due for a rebound, a manager of one of the best-performing bond funds for developing-nation debt is predicting the sell-off still has more legs.
"We feel positioning among real-money investors has not decreased very substantially yet, and believe the tightening in global monetary conditions will continue," Guillermo Osses, head of emerging markets debt strategies at Man GLG, said in an email interview. The manager, who runs the $726 million American Beacon GLG Total Return Fund with Phil Yuhn, has been "quite negative" on emerging markets since the middle of 2017.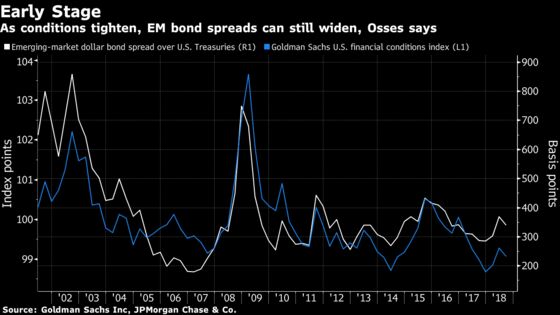 As the rout deepens, hard-currency bonds of some countries including Mexico and Indonesia may offer buying opportunities, Osses said. That's because some managers may find themselves forced to liquidate holdings in a situation where they face outflows, he said.
Osses's view contrasts with others including Investec Asset Management and Credit Suisse Group AG, which have said they find emerging-market debt attractive following the rout as global growth remains healthy. Bullish calls are growing after a Bloomberg-Barclays gauge of EM local-currency bonds suffered its worst quarter since 2016 amid concerns over tighter liquidity, a strengthening dollar and worsening trade tensions.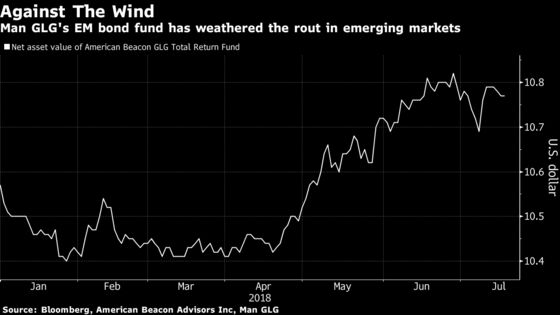 Below are some of New York-based Osses's views shared in the interview. The fund, run by Man GLG, a unit of Man Group Plc, which is the world's largest publicly traded hedge-fund firm, has returned 1.9 percent this year. That's the best performance among 238 funds that invest in emerging-market debt globally, according to data compiled by Bloomberg. Losses in similar funds have ranged from 0.4 percent to more than 16 percent.
What is your view on emerging markets?
From an EM-specific perspective, we viewed valuations in credit as very stretched and valuations in currencies as not attractive enough to allow EM economies to absorb the potential deceleration in the flow of capital
What signs are you looking for before buying again?
The sell-off could continue for the next few months
Signs of a rebound in emerging-market debt would come from declines in exposures of asset managers to both illiquid and low-quality frontier market, as well as high-yield corporate credit and local-currency, products
Where do you see the healthier segments of EM debt?
There could be buying opportunities in the hard-currency bonds of countries that have the combination of balance sheets and maneuvering in terms of policy that would allow them to navigate through a tightening in global financial conditions
Below is where Osses sees investment opportunities:
| | |
| --- | --- |
| Region | Countries |
| Latin America | Mexico, Chile, Peru, Colombia |
| Asia | Indonesia, China, Philippines (Note: Higher-income Asian nations have been excluded because they are considered more like a developed economy) |
| Europe | Poland, Hungary, Romania, Croatia, Serbia |
What's your outlook on U.S. Treasuries and their impact on EM?
The concern isn't so much how far the 10-year Treasury yield can climb, but more on the impact of increased pace of Treasury issuance, which could crowd out demand for fixed income other than U.S. bonds and end up tightening financial conditions
If, at some point, something "breaks" in the financial system, as we have seen in other Fed tightenings in the last couple of decades, and we see a sharp widening in spreads and cheapening in equity valuations, we could potentially end up in a perverse situation where long-term yields may go down to flight-to-quality and EM still end up selling off