Curve Flattening Goes Global as U.K. to India Follow Treasuries
(Bloomberg) -- From the U.K. to Indonesia, global bond investors have been joining their U.S. counterparts in driving yield curves flatter, adding to signs that escalating trade tensions are depressing expectations for economic growth and inflation.
Federal Reserve rate hikes kicked off the trend, but now other central banks are also tightening policy, and developing economies have had to act to support their sliding currencies. The upshot is that short-term rates are rising faster than longer maturities in a slew of markets worldwide, a potential source of concern for officials wary of the recessionary signals that curve flattening sends.
"One global common item is the view on the longer-term trends on inflation and economic growth," said Thomas Wacker, head of credit in the chief investment office of UBS Global Wealth Management, which oversees about $2 trillion. "That's common in the mood of all curves. There are, of course, also some idiosyncratic and regional issues."
The gap between two- and 10-year Treasury yields is marching toward being inverted for the first time since 2007, while the comparable spread on U.K. debt is the smallest in about two years, narrowing for the fourth day in a row this week. A similar trend is also evident in India and Indonesia, where central banks boosted rates last month, as well as in Australia.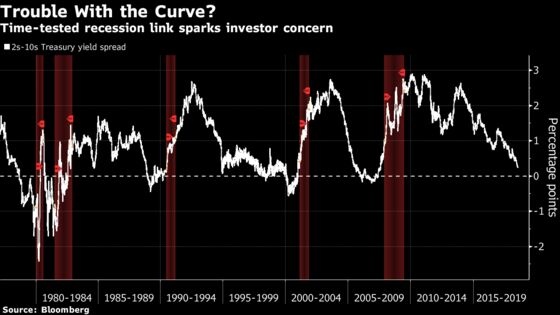 The pancaking yield curve and risks to global growth from trade tensions have helped convince Wacker to buy 10-year Treasuries to hedge against a potential economic downturn and a slump in riskier assets.
Fed Chairman Jerome Powell, responding to questions from Congress this week, said the collapse of the curve is unlikely to alter plans to normalize policy. And most models suggest the Fed has more room to tighten.
"We are still looking for the Fed to continue with quarterly rate hikes through the middle of next year," said Gemma Wright-Casparius, a senior portfolio manager at Vanguard Group Inc., which manages $5.1 trillion. "We don't see any reason for the curve to not continue to flatten."
But some economies are already feeling the heat, especially with Fed tightening fueling a rally in the dollar.
Indonesia's central bank hiked rates at the end of June for the third time in six weeks to bolster the rupiah. Yet more weakness in the currency is possible amid an emerging-market rout fanned by the U.S.-China trade dispute, supporting bets on further tightening in Southeast Asia's biggest economy. The central bank left rates unchanged Thursday, but said it's stance is still "hawkish."
The spread between the country's two- and 10-year yields shrank this month to as little as nine basis points, the narrowest in two years, before steepening back out.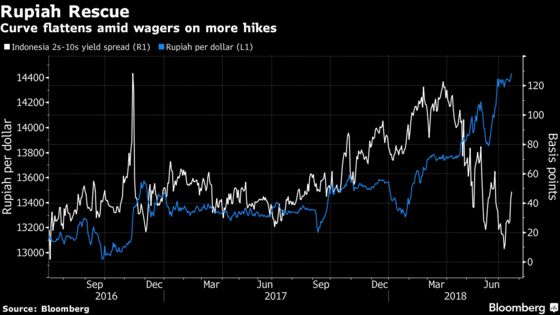 The International Monetary Fund this week warned of a hit to world output if President Donald Trump imposes all the tariffs he's threatened.
"The flattening yield curve in Asia has occurred alongside expectations of slowing growth globally and in Asia, driven by tighter monetary policy in the developed markets," said Ray Choy, head treasury strategist at CIMB Bank in Kuala Lumpur.
In India meanwhile, the gap between yields has tumbled, but not out of concern for economic growth. Traders are anticipating more tightening as higher oil prices spur inflation. The Reserve Bank of India raised rates in June for the first time since 2014.
Aside from India and the Philippines, "Asian countries have been experiencing relatively benign inflation, which has helped to cap the rise in longer-tenor bond yields," said Edward Ng, a fund manager at Nikko Asset Management in Singapore. Following Indonesia, "some other Asian central banks are starting to think about the conditions for normalization of policy rates."
Forces unique to each economy are also at play.
In the U.K, while an expected Bank of England rate increase next month is supporting front-end yields, concern over Brexit's drag on the economy is pushing down yields on longer maturities.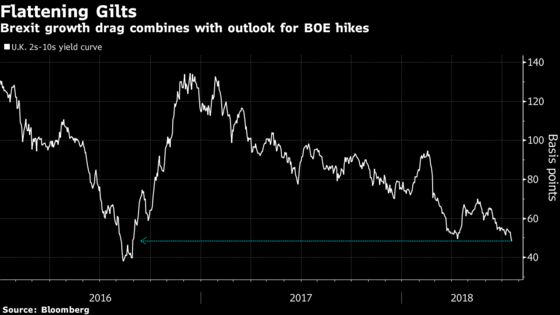 "The market has a belief that the U.K. economy is doomed because of Brexit," said James Athey, a fund manager at Aberdeen Standard Investments, who's wagering that the five- to 30-year gilt curve will keep flattening. "The economy is at full employment and has above-target inflation, so I believe the BOE should, and will, hike. That combo means a flattener."
In the euro region, curves have narrowed on speculation the European Central Bank will reinvest proceeds of the maturing bonds from its quantitative-easing program into longer-dated debt, similar to the Fed's Operation Twist in 2011. That's happening even as traders bet the ECB won't raise rates for more than a year.
In Australia, a funding squeeze that's boosted banks' short-term borrowing costs has spilled over into the front end of the curve. The spread between three- and 10-year yields has shrunk to about 53 basis points, from more than 90 in 2016.
The big question is whether the parallel flattening across so many markets sends a signal for the global economic outlook.
In the U.S., some analysts downplay the message from the flattening curve since the term premium -- the compensation investors usually demand to hold long-term debt -- is absent.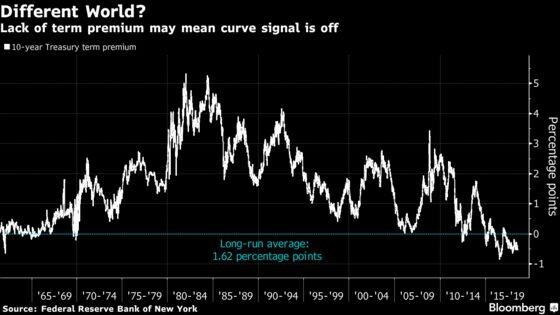 "It's important to realize that the signal from a very flat or even mildly inverted yield curve today might well be very different from a similar curve in prior periods when there was a much higher term premium," said Krishna Guha, vice chairman at Evercore ISI.
But for bond investors, and policy makers for that matter, the trend is hard to ignore, given the pristine track record of curve inversion preceding the past seven U.S. recessions.