China's Yuan Tumbles as PBOC Weakens Fixing, Easing Bets Mount
(Bloomberg) -- China's yuan slumped to a one-year low as the central bank showed little sign of intervening to slow the currency's descent and bets for monetary policy easing mounted.
The yuan dropped as much as 0.85 percent to 6.8032 per dollar in offshore trading, the lowest level since July 2017. The People's Bank of China weakened its fixing beyond 6.7 on Thursday for the first time since the currency began tumbling in June. Signs of further monetary easing are also adding strains, with China Business News reporting policy makers have made efforts to encourage bank loans and investment in lower-rated corporate debt.
The yuan has fallen more than 4 percent in the past month, the worst performance among 31 major currencies, as the world's second-largest economy falters and a trade spat with the U.S. escalates. China will tolerate higher volatility in the yuan and a moderate weakening of the currency as long as there's no major threat to financial stability, according to Pacific Investment Management Co.
The fixing "signals the PBOC is not defending any line in the sand for the exchange rate and is comfortable with gradual yuan depreciation," said Tommy Xie, an economist at Oversea-Chinese Banking Corp. in Singapore. The signs of easing are "certainly not supportive to the yuan, and the currency may see another wave of selling pressures ahead."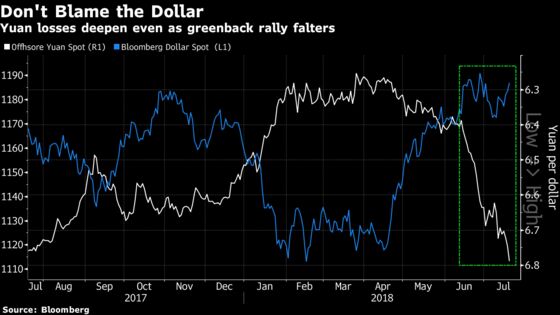 The onshore rate fell 0.87 percent to 6.7791 as of 5:57 p.m. local time, while the benchmark Shanghai stock gauge closed lower for a fifth straight day.
China's banks are being offered cash and given instructions to boost lending, according to the banking and insurance regulator, adding to evidence of a shift toward greater official support for the economy. New credit as a percentage of GDP declined close to a three-year low in June, a Bloomberg Economics gauge shows, as a government-driven campaign to reduce financial risk coincides with weaker output.
"China is actually giving the green light to send the yuan weaker," said Sue Trinh, the head of Asia foreign-exchange strategy at Royal Bank of Canada in Hong Kong. "We've had no verbal intervention, lame efforts to slow the RMB's descent and announcement upon announcement of monetary and fiscal easing."
The government has made full preparation and preliminary plans for risks with cross-border capital flows, Wang Chunying, spokeswoman for the State Administration of Foreign Exchange, China's top currency regulator, said at a press conference in Beijing on Thursday. The economy is resilient and provides a foundation for stability in the foreign-exchange market, she added.
China saw modest capital outflows in June as the yuan depreciated, according to estimates by Morgan Stanley, which expects the currency to weaken further amid subdued sentiment and potential PBOC monetary easing. The central bank may step up intervention, deploying a range of tools from stronger fixings to selling dollars in the market, if the pace of declines becomes disorderly, analysts led by Jenny Zheng wrote in a note Thursday.
Chinese authorities tend to be comfortable with large moves in the yuan so long as they're in line with changes in the economic outlook, Goldman Sachs Group Inc. economists led by MK Tang wrote in a note. The risks for massive outflows are low, as the government still maintains "a solid degree of control," they said.
"The latest policies are indicating an easing bias, bringing additional pressure to the yuan," said Zhou Hao, senior emerging market economist at Commerzbank AG in Singapore. "If the PBOC doesn't intervene heavily, there will be further downside."