Japan's Trade Minister Suggests Tougher Line on Any Auto Tariffs
(Bloomberg) -- If the U.S. imposes tariffs on cars it can expect a stronger response from Japan than when it slapped levies on steel and aluminum shipments.
That's the message from an interview on Wednesday with Japanese Trade Minister Hiroshige Seko.
Japan and the European Union are already working together to address President Donald Trump's protectionist trade policies, and need to cooperate even more closely on threatened auto tariffs, Seko said in Tokyo.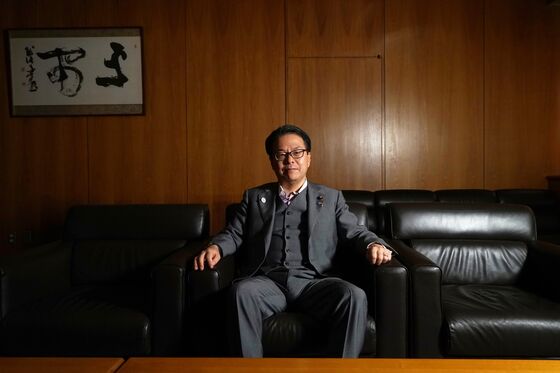 "No real effects have emerged from the steel and aluminum tariffs," he said. "So in part, that's why we haven't acted. The case of autos is different. Our response would change." Seko declined to specify what actions Japan might take.
Japan refrained from striking back at the U.S. over the metals tariffs, which its longtime ally imposed on national security grounds. The EU and China, though, have slapped tit-for-tat levies on some U.S. goods. The U.S. is now challenging those retaliatory tariffs at the World Trade Organization.
Trump has also asked the U.S. Commerce Department to investigate whether imports of automobiles and parts pose a national security risk. In a move this week, the Trump administration opened an investigation into whether uranium imports threaten national security. Tariffs on the nuclear fuel would hurt miners in U.S. allies Canada and Australia.
Prime Minister Shinzo Abe has tried to cultivate goodwill with Trump, while signing major trade agreements with other countries. On Tuesday in Tokyo, Abe was joined by European Commission President Jean-Claude Juncker and European Council President Donald Tusk for the signing of the EU-Japan Economic Partnership Agreement.
Both Japan and the EU have had to react to a protectionist turn in U.S. trade policy under Trump, who pulled the U.S. out of the original Trans-Pacific Partnership in his first week in office. The EU will likely float a plan to Trump to cut tariffs on cars and car parts among all major auto exporters, according to an official with knowledge the plans.
Seko said it is important that the U.S. understand the value of multilateral trade agreements, emphasizing Japan's leadership in deals such as the 11-member trans-Pacific agreement signed this year and the Regional Comprehensive Economic Partnership.
"Concluding large free trade deals like RCEP is an important message at a time like this, when protectionist movements are getting extremely strong," he said.
Seko allowed that moving forward with RCEP won't be easy. Japan and India need to discuss market access, and wide gaps remain among Japan, China and India on trade rules, he said.
But Seko said he's not pessimistic about reaching a basic agreement by the end of the year, noting that everyone, including India and China, share that goal.
For now, trade is firm for Japan, with data out Thursday showing that exports rose 6.7 percent in June from a year earlier while imports increased 2.5 percent. Yet this is long way below the double-digit figures seen for overseas shipments through much of 2017.