Picks From the Buy Side as We Test 2,800 Yet Again: Taking Stock
(Bloomberg) -- S&P 500 futures and Europe's Stoxx 600 are both off highs and trending at the flat-line, even with Deutsche Bank soaring more than 7 percent on a second-quarter earnings surprise, Bank of America ticking higher post-results, and no major negative headline pertaining to the trade wars spooking the tape.
Chinese stocks bounced more than 3% last week, but took a breather today after data showed a miss on the industrial production front (actual 6.0% vs estimated 6.5%) while second-quarter GDP came in at the expected 6.7% mark, its slowest pace since 2016. Note that crude is showing signs of weakness this morning as WTI nosedives below $70 per barrel.
We are awaiting updates from the meeting between Trump and Putin in Helsinki, with a joint press conference scheduled for 9:50am, and later on from the China-European Union summit in Beijing, which is co-hosted by Premier Li Keqiang, features European Commission President Jean-Claude Juncker and saw EU President Donald Tusk warning Trump ahead of the event about how trade wars can lead to "hot conflicts."
Watch Banks, Semis, and the Frackers
Everyone remains zoned in on the banks, with the BKX slipping 1% on Friday on two out of three earnings whiffs -- Citi and Wells Fargo disappointed while JPMorgan's beat couldn't reverse the sentiment; see what Wall Street had to say -- and what appears to be an early positive reaction to the numbers from Bank of America. Note BlackRock earlier reported that clients pulled >$22 billion from the firm's equity products in the quarter while inflows into iShares products were the lowest in two years.
Semiconductors may get a bid after Apple supplier Dialog Semi gained ~4% in Frankfurt after stronger-than-expected preliminary results; the company has ~77% of its revenues tied to Apple, according to Bloomberg data, so watch for any spillover into names like Skyworks (reports earnings on Thursday), Cirrus Logic, and Qorvo.
It's also worth keeping an eye on the fracking-related names thanks to some M&A in the space, where a SPAC named Matlin is merging with U.S. Well to become a publicly listed company with an enterprise value of ~$588 million -- the statement specifically pointed to a peer group that includes C&J Energy (CJ), FTS International (FTSI), Keane Group (FRAC), Liberty Oilfield (LBRT), ProPetro (PUMP), and RPC Inc. (RES).
And, of course, keep an eye on Netflix ahead of tonight's report, where the implied one-day move is nearing 9%. The stock has fallen nearly 6% since closing at a record one week ago, but worth noting that over the past 7 quarters, the stock has gapped up by a large amount four times (9.2% last quarter, 10% the prior quarter, 14% in 2Q 2017, and 19% in 3Q 2016) and has only fallen twice, neither of which were big declines (1.6% and 2.6%). Check out our preview from Friday to see what the Street is focusing on for the release.
Here's a look at some recent recommendations on the investment network SumZero:
Cobia Capital Management Founder/CIO Jeffrey Meyers -- On July 10, Meyers recommended going long Semtech (SMTC), "one of the higher growth analog semiconductor businesses out there," with a price target of $61, implying upside of ~22% from Friday's close; sees Wireless & Sensing as having the most upside potential of all business units, adding that LoRa "is ramping sharply now and has a lot of growth potential ahead of it"
Avenir Capital Investment Associate Christine Jurzenski -- On July 3, Jurzenski said to go long Charter Communications (CHTR) with a price target of $575, which is above every target from the 29 sell-side analysts that cover the stock (according to Bloomberg data) and implies upside of nearly 89% from the last close: "Charter has capital expenditure behind them, increased penetration across their 'passed' footprint ahead of them and trades at an attractive valuation of 12% free cash flow yield based on our 2021 estimates."
Separately, here is a massive rundown of picks from Barron's mid-year roundtable, which was the cover story this past weekend:
Delphi Management's Scott Black has worries about the broader market, though is positive on Noble Energy (NBL) and Arrow Electronics (ARW) due to current valuations; he also has an "unusual for me" call to buy the six-month Treasury bill for those who are "faint of heart and want to sit on the sidelines while the trade battle plays out"
T. Rowe Price's Henry Ellenbogen still likes Shopify (SHOP), with a one-year price target of $180-$200 per share, Vail Resorts (MTN), Equifax (EFX), and Grubhub (GRUB). His three new recommendations are TransUnion (TRU), with a target in the mid-80s, defense contractor BWX Technologies (BWXT), and Redfin (RDFN), which is seen having annual revenue of more than $900 million by 2020-21.
Gamco's Mario Gabelli still expects the S&P 500 to be up 0%-5% from the level of 2,740 at the time of the January roundtable, though could see 6%-8% annual return in an S&P 500 index fund over the next ten years; favorite stocks are Madison Square Garden (MSG), Liberty Braves Group (BATRA), Sony (SNE - "it would be logical for Columbia Pictures to merge with Viacom's Paramount Pictures"), Millicom International (MIICF - "I speculate that Millicom will merge with LiLAC Group"), EnPro (NPO), Paccar (PCAR), and CNH Industrial (CNHI), where he expects Iveco to merger with Paccar's DAF trucks before chairman Sergio Marchionne retires
Epoch Investment's Bill Priest still likes Applied Materials (AMAT), Martin Marietta (MLM), and Universal Display (OLED), which has a near-term price target of $120; new ideas are Kroger (KR) and Phillips 66 (PSX), which could go to $160, implying upside of ~43% to Friday's close
Rivulet Capital's Oscar Schafer doesn't expect the S&P 500 to end this year much further than where it is now; his picks are CommScope Holdings (COMM), which could be worth more than $50 in 2-3 years, and London-listed Whitbread (WTB LN), with almost 100% upside over the next few years
Columbia Management's Paul Wick still backs his prediction from January that some tech indexes may gain ~15% this year and says the semiconductor industry remains undervalue; one of his picks is Broadcom (AVGO), where he is frustrated with the manner in which the company communicated the logic behind the CA deal, but ultimately says "the logic is sound"; he also likes Integrated Device (IDTI), which he sees as an attractive M&A candidate for companies like Broadcom, Skyworks, Renesas Electronics, and even Texas Instruments, and says the stock can shoot up to $40; he also recommends shorting two Canadian companies, Canopy Growth (WEED CN) and Shopify (SHOP CN), and remains bearish on Snap (SNAP) and Intrexon (XON)
Eagle Capital's Meryl Witmer sees room for the S&P 500 to climb 5%-10% and favors Packaging Corp. (PKG) with a price target of $150 in two years, London-listed Indivior (INDV LN) as a key player in solving the opioid crisis in the U.S. (shares surged more than 30% today after a court ruled to block sales of Dr. Reddy's copies of Indivior's Suboxone treatment), and Belgium's Tessenderlo Group (TESB BB) with a price target of EU42-EU50 per share.
DoubleLine Capital's Jeffrey Gundlach says we are getting closer to a recession and is is more cautious about 2019 than 2018; he now prefers the E&P ETF XOP versus the Energy Select ETF XLE and is sticking with the iShares MSCI Brazil ETF (EWZ), Tortoise MLP Fund (NTG), and WisdomTree Japan Hedged Equity Fund (DXJ); he also likes the two-year Treasury note: "You're probably going to want that liquidity sometime in the next couple of years"
Not seeing a ton of major calls today besides a couple of broader calls from the strategists, the usual earning previews, and a slew of initiations on recent biotech IPOs.
JPMorgan's global equity strategists continue to recommend using trade headlines-driven dips as a buying opportunity thanks to expectations for robust growth fundamentals in the second half. They also add that widespread concerns around the yield curve's flattening are premature: "The yield curve has always tended to flatten once the Fed started to hike, and the stocks didn't tend to peak until after the yield curve got outright inverted. Furthermore, equities tended to move higher for almost a year after the outright inversion. They think that there is a good possibility that the curve steepens next before it ultimately inverts."
Morgan Stanley strategist Michael Wilson is pounding the table on last week's defensive rotation call, which he said was "met with a big yawn." While 2Q earnings season should come in above expectations, Wilson doesn't see it as a positive catalyst for U.S. stocks and sees risk-reward skewing lower as the S&P 500 nears the top of the 2,800-2,825 resistance level that has held since February.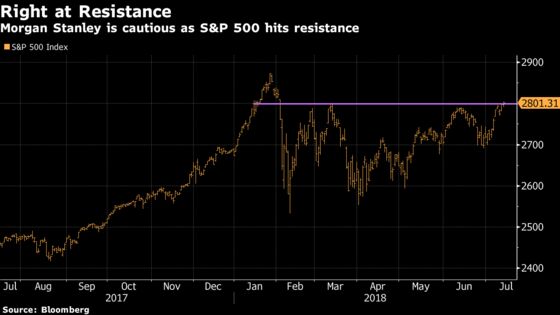 Goldman's Joe Ritchie slashes his neutral rating on ROK for the first time in many years to a sell on expectations for growth and EPS to decelerate, while also downgrading PH to a neutral; meanwhile, the bank's chemicals analyst, Robert Koort, cut price targets for titanium dioxide (TiO2) producers VNTR and CC as the industry is nearing peak profitability.
UBS is downgrading FDX to a neutral, on macro risk and limited visibility to near term margin expansion and upgrading UPS to a buy on the company's cost savings initiative.
Tick-by-Tick Guide to Today's Actionable Events
Today -- Farnborough Air Show starts
7:30am -- JBHT earnings (roughly)
8:30am -- Empire Manufacturing, Retail Sales
8:30am -- BAC, BLK earnings call
10:00am -- Business Inventories
10:00am -- IMF world economic outlook webcast
11:00am -- Albertsons earnings call (may impact RAD)
11:30am -- Treasury auction: $51b 3-month bills, $45b 6-month bills
11:30am -- Republican Sen. Susan Collins discusses rising drug prices at event
2:00pm -- Atlantic Council event on Russia's interference in elections
3:00pm -- Amazon "Prime Day"
4:05pm -- NFLX earnings
6:00pm -- NFLX earnings call
6:30pm -- RIO 2Q production
9:30pm -- China New Home Prices