Citi Says Trump 'Brutal' on Trade But Sees Deals by Midterms
(Bloomberg) -- After U.S. moves on global trade policy that have shredded decades of trust, watch out for deals to be struck before the midterm elections in November, Citigroup Inc. said, flagging a potential rebound in commodity prices toward the year-end that's aided by still-robust fundamentals.
"U.S. trade actions have been brutal and unilateral and have punctured the trust built up over decades of good-faith agreements," the bank said in a quarterly commodities outlook, describing President Donald Trump's policies as neo-mercantilist. "Our base case is for negotiations to continue and for trade deals to be done ahead of the November U.S. midterm elections."
Among Citigroup's forecasts should the U.S. and China pull back from the brink, soybeans may rally to $9.75 to $10 a bushel in the final quarter, it said, up from this week's $8.34. And copper, which last traded at $6,215 a ton, could hit $6,800 in the base case, or even $8,000 under a more optimistic scenario.
Commodity prices, especially metals and farm goods, have been pummeled after President Trump imposed tariffs on billions of dollars of Chinese goods, spurring a tit-for-tat response. The U.S. administration is also embroiled in standoffs with the European Union, Mexico and Canada. A resolution of some or all of these conflicts may provide a political boost for Trump and the Republican Party heading into the November contests, when seats in the House of Representatives and Senate are up for grabs.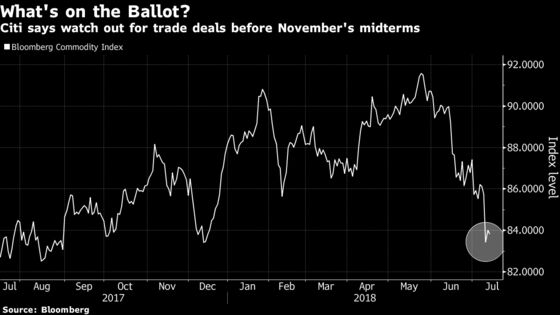 "The next one-to-two months may indicate whether a full-blown trade war happens or occasional overtures would indeed lead to a resolution," analysts including Ed Morse said in the report. They added: "The next half-year should see continued robust global growth, spurring higher commodity demand."
In addition to the tariffs already imposed on Chinese products, Trump's administration has threatened a follow-up wave on a further $200 billion in goods. Last month, China and the E.U. vowed to oppose protectionism, saying unilateral actions risked pushing the world into a recession.
With the midterms pending, "it is logical to assume a lessening of trade intransigence, at least temporarily by end of the third quarter," Citi said. "Tit-for-tat responses by trade partners are targeting exports from Republican-held states and Republican Congressional and Senatorial districts, also pointing to a partial pullback by the president in coming months."
In the November contests, Republicans are trying to buck a historical trend in which the party that holds the White House almost always loses congressional seats. The Democratic Party is counting on a voting base energized by anger at President Trump to win the seats it would need to gain a majority in the House.