China Slowdown Hits Stocks as Trump Sides With Putin: Inside EM
(Bloomberg) -- Emerging-market stocks resumed their selloff Monday after data showed that China's economy is slowing amid an escalating trade war.
The MSCI EM Index of equities deepened its slide from a January peak to 16 percent, while a currency measure was little changed. Russia's ruble rose, bucking a drop in oil, as Donald Trump suggested he equally trusted U.S. intelligence officials and President Vladimir Putin as the two leaders stood together in Helsinki. Mexico's peso led gains in Latin America, extending a four-week rally. In Turkey, banking stocks fell for a fifth straight day after Fitch Ratings knocked the nation's debt grade further into junk territory.
Emerging Market ETFs Fall for 8th Wk in $10.1 Bln Losing Streak
Withdrawals from emerging-market exchange-traded funds continued for an eighth straight week with outflows exceeding $10 billion, according to data compiled by Bloomberg. Money managers are monitoring Federal Reserve Chairman Jerome Powell's two-day Congressional testimony and the U.S.-China trade war amid signs that the world's second-largest economy is cooling.
"If this is sustained, it could continue to weigh on other EM markets," said Frances Hudson, an Edinburgh-based global strategist at Aberdeen Standard Investments, which oversees more than $770 billion. "But the U.S. rate environment, dollar strength and trade war aspects must also be influential."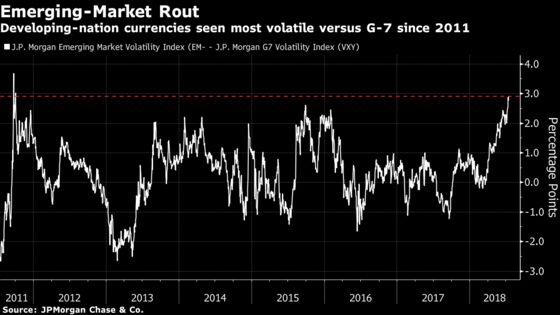 The International Monetary Fund, which has repeatedly warned that the trade spat between Washington and Beijing will reverberate globally, is set to release its growth forecasts later Monday. China's economy grew at an expected 6.7 percent in the second quarter, its slowest pace since 2016, while key measures on investment growth and industrial output decelerated in June.
BlackRock Inc. Chief Executive Officer Larry Fink warned that intensifying global trade tensions could spur a 10 to 15 percent selloff in stocks. Earlier Monday, the world's largest asset manager reported that investors pulled $22.4 billion from its equity products in the second quarter.
HIGHLIGHTS:
MSCI Emerging Markets Index dipped 0.5 percent to 1,070.66
MSCI Emerging Markets Currency Index fell for a fifth day
Risk premium on EM sovereigns +1bp to 341bps: JPMorgan indexes
Short Interest in EM Stocks Hits Level That Spurred Past Rallies
Trade War Just Noise and Asia Stocks Cheap to JPMorgan Asset
Trade War Imperils World Growth as IMF Sees 'Complacent' Markets
State Street Favors Commodities Over EM Equities on Risk Outlook
High Hurdles Add to Agony for Actively-Managed EM Debt Funds
Powell delivers the semi-annual Monetary Policy Report to the Senate Banking Committee and answers lawmakers' questions
China new home prices
South Africa consumer confidence
Argentina national CPI
BRAZIL:

Ibovespa dipped 0.4 percent to 76,279.00
Real declined 0.3 percent to 3.86 per dollar
10-year local-bond yield gained nine basis points to 11.50 percent
Economic activity suffered its worst plunge on record in May
Globo reported that S&P requested a meeting with Treasury Secretary Mansueto Almeida this week
BBVA raised its year-end inflation forecast to central bank's 4.5 percent target
Bonds among JPMorgan Asset Management's top EM debt picks
Brazil's Real Haunted by Economy Present, Election Future

MEXICO:

Mexbol index rose 0.1 percent to 48,455.81
Peso gained 0.3 percent to 18.8284 per dollar
10-year local-bond yield declined two basis points to 7.759 percent
Government said it will defend actions it took in response to U.S. trade measures against its steel and aluminum exports
IMF cut 2019 growth outlook on uncertain outlook around trade tensions, Nafta and president-elect Andres Manuel Lopez Obrador's policy agenda
Bullish bets on peso rose by most since March in week ending July 10: CFTC
Rabobank said stay long the peso but hedge against a big depreciation

ARGENTINA:

Merval Index dipped 1.1 percent to 26,214.42
Peso declined 0.5 percent to 27.36 per dollar
Officials will delay price increases in utility tariffs due to decline in President Mauricio Macri's approval rating, La Nacion reported
Government will postpone indefinitely the construction of three large public works projects to avoid increasing spending as part of deal with the IMF

Click for market news on ANDES
TURKEY:

Borsa Istanbul 100 Index dipped 0.2 percent to 89,744.01
Lira little changed at 4.8371 per dollar
Budget gap nearly doubled in June from prior year
Trump discussed Syria and other topics with Turkish leader Recep Tayyip Erdogan before his meeting with Putin
IMF lowered its estimate for GDP growth this year to 4.2 percent
Fitch cut nation's long-term sovereign debt rating to BB from BB+ on Friday
Neuberger Berman said Turkish bonds offer value
Corporate loan quality is deteriorating quickly as economy slows "quite sharply," said Murat Ucer, an economist at GlobalSource Partners in Istanbul

RUSSIA:

MOEX Russia Index dipped 0.5 percent to 2,334.18
Ruble gained 0.5 percent to 62.26 per dollar
10-year local-bond yield rose two basis points to 7.54 percent
Putin, standing next to Trump, said he wanted him to win 2016 election
Central bank said it won't issue guidance for next rate meeting
Ruble could rally to 59 per dollar if Trump-Putin talks are constructive, according to Rabobank
Morgan Stanley remains bullish on ruble bonds yet cautious on supply
SOUTH AFRICA:

FTSE/JSE Africa All Share Index declined 1.8 percent to 49,338.95
Rand gained 0.4 percent to 13.2224 per dollar, strongest in five weeks
9-year local-bond yield declined three basis points to 8.701 percent
Nedbank said nation's shares are set for a "major" correction
Rand buoyed by "fleeting global optimism" though it's vulnerable to sporadic selloffs, said Mpho Tsebe, strategist at Rand Merchant Bank in Johannesburg

Click for market news on POLAND and HUNGARY
CHINA:

Shanghai Composite Index dipped 0.6 percent to 2,814.04
Offshore yuan gained 0.1 percent to 6.7016 per dollar
10-year local-bond yield declined one basis point to 3.48 percent
Data released since Friday confirmed that an ongoing campaign to curtail credit is putting the brakes on the nation's economy
Stock exchanges said they won't allow mainland investors to buy shares with weighted-voting rights in Hong Kong
China and the EU agreed to resist protectionism at Beijing summit
Premier Li Keqiang said China doesn't want a trade war
UBS said Chinese stocks may rebound as the trade war is priced in
"We have not seen the worst yet," said Iris Pang, Greater China economist at ING Bank NV in Hong Kong

INDIA:

Sensex Index fell 0.6 percent to 36,323.77
Rupee declined 0.1 percent to 68.569 per dollar
10-year local-bond yield gained one basis point to 7.8034 percent
Wholesale price inflation in June accelerated to highest in about five years
Bond Veteran Who Got Big Call Right Predicts End to India's Rout
Few Stocks Rising From India Selloff Even as Market Hits Record

Click for more on markets in ASIA