Hedge Funds Turns Up Heat on Kiwi as Inflation Loses Traction
(Bloomberg) -- New Zealand's inflation data may go some way to explaining why hedge funds are getting increasingly bearish on the kiwi.
Consumer prices rose at the slowest annual pace since 2016 in the first quarter, spurring the central bank to become more dovish at its June policy meeting. Leveraged funds responded by boosting net short positions on the local dollar to the highest since January.
The nation will report second-quarter inflation figures on Tuesday, with economists forecasting an annual rate of 1.6 percent, up from 1.1 percent in the previous three months. A miss may nudge the Reserve Bank of New Zealand further toward a rate cut.
Hedge funds have already increased net short positions for three straight weeks, according to data from the Commodity Futures Trading Commission. The kiwi has weakened around 5 percent this year, and is hovering near the lowest since May 2016, with its exposure to the U.S.-China trade war adding to selling pressure.
Technically, the currency remains bearishly below its downtrend resistance line. It formed a death cross in May, when the 50-day moving average dipped below the 200-day gauge.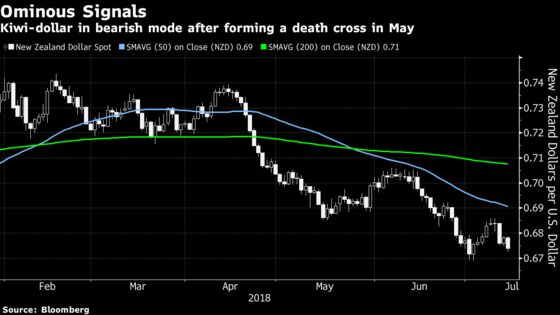 The case for a rate cut is building. At the June 28 meeting, RBNZ Governor Adrian Orr dropped a reference to hold the benchmark rate at a record low for "some time to come." Instead, he pointed out that the central bank is positioned to manage change in either direction.
Indicators released since then have backed the case that growth may be cooling. Manufacturing growth slowed in June, while retail card spending saw its first quarterly decline since 2008. And that's just as China, the biggest buyer of New Zealand's exports, finds itself embroiled in a trade war with the U.S.
Tuesday's inflation data may provide hedge funds with even more reason to add to their kiwi shorts.
Key events and data due in the week ahead:
Monday, July 16: China 2Q GDP, retail sales, industrial production and fixed assets ex-rural, Philippine overseas remittances, Indonesia trade balance, India wholesale prices
Tuesday, July 17: RBA minutes, New Zealand 2Q CPI, Singapore non-oil exports
Wednesday, July 18: Malaysia CPI
Thursday July 19: Bank Indonesia rate decision, Australia employment, Japan trade balance, Philippine BOP
Friday, July 20: Japan CPI, Malaysia foreign reserves, Thailand trade balance