Emerging Markets Brace for a Trade-War Blow-Out
(Bloomberg) -- It may be starting to sound like a broken record for emerging markets, with the twists and turns of U.S.-China trade tensions likely to dominate investor concerns this week.
That's not to say Federal Reserve Chairman Jerome Powell's two-day Congressional testimony and even the outcome of Monday's meeting between Donald Trump and Vladimir Putin in Finland won't have a part to play in driving sentiment.
Emerging-markets have become trickier to navigate as investors brace for outsized volatility. The gap between a JPMorgan Chase & Co. gauge of expected volatility in developing-nation currencies and a Group-of-Seven measure was at the highest level since 2011 at the end of last week. That's depriving investors of a cheap way to protect against risks in emerging markets.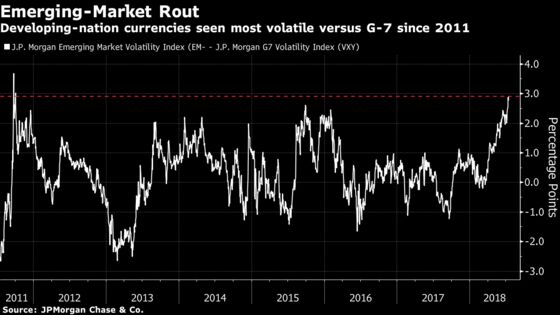 "We remain concerned that the vicious cycle of tit-for-tat tariffs may accelerate in the coming weeks," said Piotr Matys, a strategist at Rabobank in London. "This in turn would fuel risk aversion, leaving various emerging-market currencies particularly vulnerable against the U.S. dollar, which continues to benefit from capital outflows from emerging markets to U.S. assets."
What You Need to Know About Emerging Markets This Week: Audio
Trade tensions are likely to get worse before they get better and Asian currencies such as South Korea's won and Taiwan's dollar are set to weaken further, Goldman Sachs Group Inc. strategists including New York-based Zach Pandl wrote in a July 13 note. Markets will be on the lookout for the resumption of negotiations over trade between the U.S. and China after they exchanged retaliatory threats last week. Donald Trump raised the stakes on Tuesday by moving forward with plans to impose tariffs on another $200 billion of Chinese imports.
As if the trade tensions aren't enough to contend with, investors will also keep an eye on the outcome of the Putin-Trump summit. The U.S. president is under pressure to confront his counterpart once and for all after Special Counsel Robert Mueller indicted 12 Russian intelligence officers for hacking offenses designed to undermine the Democratic Party in the 2016 U.S. presidential campaign.
Though few investors expect a major thaw in relations, some have been buying Russian assets purely on the grounds that any meeting is better than no meeting at all. The ruble gained 0.7 percent last week, among the best-performing developing-nation currencies. The U.S. imposed its toughest sanctions to date in April as punishment for Moscow's alleged elections meddling and Trump has said he will raise the matter of interference when the two leaders meet.
Powell's testimony will be key for the dollar, according to NatWest Markets
The Fed chairman will deliver his testimony to the Senate Committee on Tuesday and appears before the House panel the following day
Judging by recent data, "there is little reason for the Fed to sound hawkish," said Henrik Gullberg, head of emerging-market trading strategy at Nomura International in London
Indonesia, South Africa Decide
Bank Indonesia will meet on Thursday whether to proceed with a fourth rate increase this year to stem declines in the rupiah, which is hovering near its lowest level since October 2015. Central bank Governor Perry Warjiyo said on July 11 the depreciation of the currency is "under control" though it's undervalued. BI has raised the seven-day reverse repo rate by a total of 100 basis points in the past two months.
"BI's interest-rate weapon for currency stability may have run out of steam," Prakash Sakpal, an economist in Singapore at ING Groep NV, wrote in a July 12 note. "We aren't expecting BI to use this weapon further, at least not in the forthcoming meeting"
South Africa's central bank will also probably leave the benchmark repo rate unchanged at 6.5 percent on Thursday, according to economists
China reported on Monday GDP growth slowed to 6.7 percent in the second quarter from a year earlier, the least since 2016 and in line with expectations.
Market watchers view the yuan's 6.70 level against the dollar as "a major pivot," with the Chinese currency and stocks perceived as "major barometers of market sentiment," Rabobank's Matys said. A breach of that level toward 6.80 would weigh on other emerging-market currencies, he said. The yuan weakened for a fifth week, closing at 6.993 on Friday.
Indonesia reported a trade surplus of $1.74 billion in June on Monday, a turnaround from a deficit of $1.45 billion in May. Thailand is set to report trade data later this week, while Taiwan will release its export orders; Malaysia's inflation data is due on Wednesday
The Philippines released its May remittances on Monday, which increased a more-than-expected 6.9 percent from a year earlier. Its balance-of-payments figures for June are due on July 19
Other than Turkey's lira, Asian currencies were the worst-performers in emerging markets this month
Argentina will release its June inflation figures on Tuesday. The government said price increases eased to 2.1 percent in May from 2.7 percent the prior month. Analysts say inflation probably accelerated again thanks to the weakening peso, which may in turn put pressure on the nation's embattled central bank

The Argentine peso was by far the world's worst performer in June, falling 14 percent before rallying in July. Supermarket sales figures due on Thursday may indicate whether the nation is headed for a recession

Traders will also be on the lookout for Brazil's inflation data on Friday, especially after analysts surveyed by the central bank raised their 2018 projections for an eighth consecutive week. Prices are increasing amid the depreciation of the real, which makes imports costlier, and in the wake of a nationwide trucker strike that choked roads and pushed up prices of goods

The real has trailed other major currencies this year

Monthly forecasts for Chilean consumer prices, the country's benchmark rate and currency are expected to indicate inflation is closer to the central bank's target range
South Africa's statistics agency publishes inflation data for June on Wednesday, with the consumer price index seen rising to 4.8 percent, from 4.4 percent in May; the rand has climbed more than 3 percent this month, outperforming most of its peers
Latin America investors will focus this week on the G20 summit in Buenos Aires, where finance ministers and central bank governors meet from Thursday through Sunday. Argentine President Mauricio Macri will preside over topics including trade wars, emerging-market turbulence and taxation of the digital economy