Trump Bulldozes Through Allies to Reach Putin
Donald Trump's being as good as his word. After raging at allies at the NATO summit and scorning U.K. Prime Minister Theresa May's Brexit plans, the U.S. president could be right that Russian leader Vladimir Putin "may be the easiest of them all" to deal with on his European tour.
When May hosts Trump for talks today, she could be tempted to re-enact the scene in the 2003 movie Love Actually, when Hugh Grant's premier tells a swaggering American president that "a friend who bullies us is no longer a friend."
Life is unlikely to imitate art, though, even as Trump praised May's rival Boris Johnson, who quit the government over her Brexit strategy this week, as a potentially "great prime minister" in his interview to The Sun newspaper. 
The sight of Trump upending the "special relationship" with Britain and sowing division in the western military alliance will delight Putin ahead of their first summit on Monday in Helsinki.
With the Kremlin determined to strike at least one deal that allows the U.S. leader to declare the meeting a success, Putin may spy a golden opportunity to forge a partnership with Trump that leads to a long-term reshaping of the international order.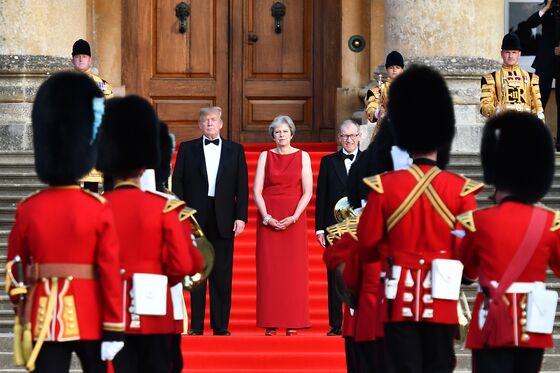 Damage control | The U.K. moved to play down Trump's extraordinary attack on May's Brexit policy, insisting the U.S. president was not being "rude." Given Trump's unpopularity in the U.K., his comments might paradoxically work in her favor. Brits don't like American leaders wading in on Brexit, as President Barack Obama found out when he warned them before the referendum that leaving the EU would put them at the back of the line on trade.
Ill-timed windfall | China's monthly trade surplus with the U.S. surged to a record in June, with soaring exports, providing Trump more fodder in his criticism of Beijing's economic policies. The data come a day after U.S. Treasury Secretary Steven Mnuchin held out the prospect for restarting talks — if Chinese leaders agree to make structural changes.
Trade angst | Signs abound that Republican lawmakers are increasingly frustrated with Trump over his new trade tariffs as they fight to keep their congressional majorities in the November midterms. House Speaker Paul Ryan, who rarely directly criticizes the president, said tariffs "are not the solution," and warned that pulling out of trade pacts threatens the U.S. economy. But they're still not ready to rein in the president's power.
A new wrinkle | Supreme Court nominee Brett Kavanaugh's road to confirmation contains a little-noticed potential obstacle: Senator Rand Paul's firm views on privacy. The Kentucky Republican strongly disagrees with Kavanaugh on the meaning of the Constitution's Fourth Amendment, and he's got a record of defying leaders to make a point on civil liberties issues. The Republicans' razor-thin Senate majority means Paul's vote could be pivotal.
Flattering Kim | Trump hailed a "very nice note" he received from Kim Jong Un as evidence of progress in nuclear talks following setbacks. The letter, however, predated U.S. Secretary of State Mike Pompeo's rocky visit to Pyongyang. In more signs of trouble: the U.S. presented the United Nations with evidence the regime had exceeded an internationally imposed cap on oil imports and the North Koreans failed to show up for a meeting on recovering the remains of U.S. war dead.
After yesterday's snub, U.S. negotiators have now agreed to meet the North Koreans on Sunday to discuss repatriating the dead American servicemen.
And finally… An arrest warrant by the International Criminal Court for war crimes in Sudan isn't standing in the way of President Umar al-Bashir's plans to attend the soccer World Cup final between France and Croatia. Wanted since 2005 for his role in the crisis in the Darfur region, where the UN says 300,000 people were killed, Al-Bashir has repeatedly flouted the ICC's travel ban. He was invited by Putin to attend Sunday's match in Moscow as part of a three-day visit that will include talks on a range of issues — with a focus on how to modernize his army.