Fed Zeroes In on Prime-Age Labor Figure That Signals Room to Run
(Bloomberg) -- The Federal Reserve shed some light on a U.S. labor-market quandary, highlighting a subset of the population who may hold the key to how much longer the nation can enjoy strong job gains.
The share of jobless Americans ages 25 to 54 who say they want work but aren't actively looking has been declining since 2010, likely because the tightening labor market has drawn them in. But among prime-age men, it's still as much as half a percentage point above its level in 2007, just before the last recession began, the Fed said in its semiannual monetary policy report to Congress on Friday.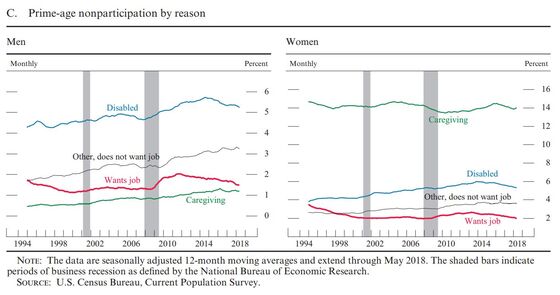 That suggests there's more room for growth in the labor market, even with the national unemployment rate near an 18-year low. At the same time, the report pointed out other factors behind the smaller share of Americans working or hunting for a job than in prior expansions: a lack of affordable childcare, lower education levels, incarceration, discrimination and an opioid crisis.
Although the factors behind the weaker participation rate could stick, "some continuation" of the increases in recent years "nevertheless seems possible, especially if labor market conditions remain favorable," the central bank said in the report. Monetary policy can support such gains to the extent that it helps boost the economy, the Fed said.
While the rate of prime-age workers in the job market has picked up in the last few years, the overall participation rate is below that of past economic expansions, partly because of an aging population.