Emerging-Market Stocks Rebound as Trade Tension Eases: EM Review
(Bloomberg) -- Emerging-market stocks and currencies rebounded this week as trade tensions eased in the absence of retaliation plans from China after President Donald Trump's latest escalation.
The MSCI Emerging Market Index advanced 1.4 percent, snapping four weeks of losses, while an index tracking developing-market currencies fell 0.1 percent, marking its seventh weekly decline. The Bloomberg Barclays index of local currency EM govt bonds was little changed.
Highlights for the week ended July 13: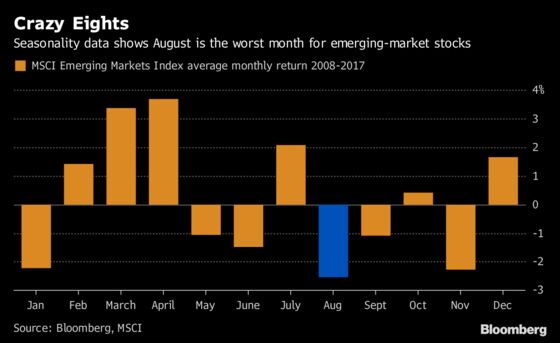 The Shanghai Composite Index ended seven weeks of losses, while the onshore yuan posted five straight weeks of declines; the Trump administration said ZTE Corp. took another step toward ending a U.S. ban on the company doing business with American suppliers

Foreign reserves rose $1.51 billion to $3.112 trillion last month, the first gain since March
The consumer price index gained 1.9 percent year-on-year in June, compared with 1.8 percent increase in May

South Korea's won completed its sixth weekly decline and Kospi index fell for a fourth week; Bank of Korea held policy rate unchanged at 1.50% as expected
Trump said in a tweet that he believes North Korean leader Kim Jong Un will stick to his promise to give up nuclear weapons, while suggesting China may be trying to undermine the agreement
India's rupee was the best performer in Asia; inflation accelerated to 5 percent in June on year from 4.87 percent the previous month, while industrial production increased 3.2 percent in May from a year earlier, compared with a revised 4.8 percent increase the previous month
The Thai baht extended a 5-week losing streak; the Bank of Thailand has no need to hurry to follow interest rate hikes by other central banks, Governor Veerathai Santiprabhob said; he also said during the week that the central bank steps in sometimes to "take care of baht"

Commerce ministry may raise export growth target this year to 9 percent from 8 percent because of growing global demand, its minister Sontirat Sontijirawong said

Indonesia's rupiah fell for a fifth week even as Bank Indonesia said it will use all available instruments to guard its currency
The Malaysian ringgit fell for a fourth week; the country kept its benchmark interest rate unchanged at 3.25 percent, as predicted

Swiss investigators have found that up to $7 billion of funds were misappropriated from Malaysian state fund 1MDB

The Philippines Stock Exchange Index had the best week since April 2017; Felipe Medalla, a member of central bank's policy-making Monetary Board, said another rate hike in August makes sense to dispel market perceptions that the central bank prefers a weaker currency and is behind the curve
Turkey's lira fell to an all-time low Thursday before paring losses, currency was still down more than 5.5% on the week; current-account deficit came in at $5.89 billion in May, more than estimate $5.3 billion shortfall

The government is planning to introduce so-called "Regional Crisis Management" plan after state of emergency expires July 18

The South African rand rose for a second week; the nation's manufacturing increased 2.3 percent in May from a year earlier, the most in four months

Business confidence slumped for a fifth month to 93.7 in June from 94 in May

The ruble trimmed the week's gains on Friday after the U.S. indicted 12 Russian spies for hacking in 2016; The finance ministry laid out its most ambitious borrowing program yet with a plan to raise almost 5 trillion rubles ($80 billion) domestically over the next three years

Second-quarter current-account surplus expanded to $22.3 billion from $1.9 billion year ago, the central bank said
Money managers from Swedbank Robur and EI Sturdza Investment Funds say the Trump-Putin summit on Monday is reason enough to buy Russian stocks and bonds
The Brazilian real rose for a second week; the government projects 1.6 percent growth this year in an updated report on federal revenues and expenses to be released later this month, Estado says, citing an interview with Minister of Finance Eduardo Guardia

The International Monetary Fund sees 1.8 percent growth in 2018 for Brazil, it said in a statement, cutting its April forecast of 2.3 percent
Former President Luiz Inacio Lula da Silva may appoint his replacement in presidential race, said PT lawmaker Wadih Damous

Mexico's peso advanced for a fourth week while the 10-year Mbono yield climbed for a second week after the election; President-elect Andres Manuel Lopez Obrador released a list of reforms he's looking to send to Congress

U.S. Trade Representative Robert Lighthizer and Mexican officials are constantly exchanging information and consulting stakeholders, said a spokesperson who declined to be identified by name
Lopez Obrador said he seeks GDP growth of 4 percent per year
Annual inflation quickened to 4.65 percent in June from 4.51 percent in May

The Argentine peso rose for a second week; President Mauricio Macri named Pablo Quirno, the former finance ministry cabinet chief, as a central bank director

Officials reiterated that they will monitor monetary aggregates more closely and keep intervening in secondary Lebac market
Treasury Ministry discussed with provincial economy ministers that the government will need to cut 300 billion pesos ($11 billion), according to Infobae
| | | |
| --- | --- | --- |
| Monday, July 16 | China | 2Q GDP, June retail sales, industrial production, fixed-asset investment |
| | Indonesia | June trade data |
| | Poland | May current-account balance, trade data |
| | India | June wholesale prices |
| Tuesday, July 17 | Turkey | May industrial production |
| | Argentina | June consumer price index |
| Wednesday, July 18 | Malaysia | June consumer price index |
| | South Africa | June consumer price index, retail sales |
| | Russia | June retail sales, unemployment rate |
| | Poland | June sold industrial output |
| Thursday, July 19 | Indonesia, South Africa | Monetary policy decision |
| Friday, July 20 | Thailand   | June customs trade data |
| | Brazil | July IPCA-15 inflation |
| | Poland | June retail sales |
| | Taiwan | June export orders |