Tariffs Lurk Around Corner After U.S. Inflation Tame in June
(Bloomberg) -- A lull in U.S. consumer inflation in June may prove temporary, as the White House ramps up plans to impose tariffs on Chinese goods and trucking costs soar.
The Consumer Price Index rose 0.1 percent from the prior month, less than projected and restrained by falling utility prices and a record decline in hotel costs, Labor Department data showed Thursday. While that was slower than the 0.2 percent rise in May, inflation on an annual basis picked up slightly. What's more, the 2.3 percent gain in the core gauge -- which excludes food and energy costs -- roughly matched the fastest pace of this expansion.
Even with unemployment near a 48-year low, inflation has yet to see any sustained breakout during a U.S. expansion that's now in its 10th year. That may be about to change: President Donald Trump's latest round of China tariffs, which could take effect within months, would boost the core CPI by as much as 0.6 percent within a year, according to Ian Shepherdson of Pantheon Macroeconomics.
The added inflation and potential hit to growth might complicate the decisions of Federal Reserve policy makers, who have penciled in two more interest-rate hikes this year after two in the first half.
Fed Chairman Jerome Powell said about as much on Thursday. Asked about tools that could be deployed if a trade war slows the economy, he said policy makers could lower interest rates if the economy weakens or slow the pace of increasing them.
"There could be an effect on inflation," Powell said, according to a transcript of his interview with the radio show Marketplace. "I wouldn't want to, you know, dive into a bunch of hypotheticals here, but I would say, you can imagine situations which would be very challenging, where inflation is going up and the economy is weakening."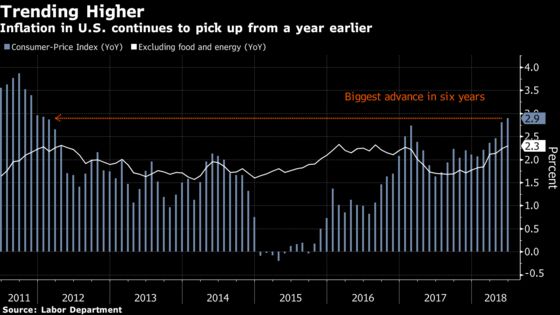 The impact of earlier tariffs on washing machines is already showing in a pocket of the CPI data. The index for laundry equipment was up 13.1 percent from a year earlier, a record in figures going back to the 1970s, though its effect on the broader CPI is negligible.
"Anecdotally, there is more pricing pressure still to come," said Thomas Simons, an economist at Jefferies LLC. "The price pressures on shipping and trucking haven't shown up here yet, and over time we're going to continue to see that filter through."
The below-forecast June CPI can be chalked up to some categories that tend to be volatile. Hotel and motel rates fell 4.1 percent in June from the previous month, the biggest decline on record and dragging down the broader index by 0.037 percentage point. Additional categories that helped limit the gain in the CPI included apparel, which fell 0.9 percent, and other household equipment and furnishings, which dropped 1.7 percent.
Looking ahead, companies may be looking for ways to pass along higher production costs to customers as fuel and transportation prices rise and tariffs provide a boost. A trade war between the U.S. and China, the world's two largest economies, stands to ratchet up that pressure. The Trump administration this week detailed planned levies on $200 billion of Chinese imports, on top of tariffs in effect or soon to be implemented on $50 billion of goods.
Berenberg Capital Markets LLC said the Trump administration making good on threats of $200 billion in additional tariffs on goods from China "would modestly impact the CPI."
The Fed's preferred gauge of inflation -- a separate consumption-based figure from the Commerce Department -- came in above the central bank's 2 percent goal in May, and the figure tends to run slightly below the Labor Department's CPI. Fed officials see core inflation as a more reliable gauge of underlying price pressures, especially with energy costs currently giving a boost to the broader CPI.
What Our Economists Say
The CPI data are "consistent with Bloomberg Economics' expectation for the resurgence of inflation to remain muted until labor cost pressures build more appreciably. This should occur later this year, but as the June jobs report showed, labor costs continue to rise only modestly. Tame inflation in the second half will help to tilt moderate FOMC members toward a more gradual pace of policy normalization and, in turn, swerve the Fed toward a December pause."

-- Carl Riccadonna and Tim Mahedy, Bloomberg Economics

Read more for the full reaction note from Bloomberg Economics.
The Fed's preferred core measure rose 2 percent in May from a year earlier. The June figure may slow to 1.9 percent, according to JPMorgan Chase & Co. chief U.S. economist Michael Feroli.
Several Fed officials have indicated in remarks that a modest overshoot of the inflation goal wouldn't necessarily mean a more aggressive pace of interest-rate hikes, because for years price gains came in below expectations. The question is whether they become more aggressive if the trade war boosts inflation further.
"Producers don't waste a lot of time passing" tariff costs along to consumers, said Mary Lovely, a Syracuse University economics professor who focuses on trade and supply chains. "The Fed's already signaled that it's keeping its eye on this, so it could be a headache in the sense that they want to raise rates and that means they need to see it's not going to slow down the economy too quickly."