Mnuchin Seeks to Calm Fears of Economic Fallout From Tariffs
(Bloomberg) -- Treasury Secretary Steven Mnuchin said U.S. tariffs and China's retaliatory actions haven't dented the domestic economy, as he sought to calm fears from Republicans in Congress that a trade war is hurting American consumers and companies.
Mnuchin, speaking before the House Financial Services panel on Thursday, said he and administration officials are available for talks with China over trade. He called the U.S. tariffs as moderate in size and aimed at leveling the playing field for American industries.
"We put a modest amount of tariffs on China," as a result of their policy of forced technology transfers, Mnuchin told committee. The Trump administration is closely monitoring the economic effect of those tariffs, including on uncertainty for businesses, and it hasn't yet found "any negative impact," he said.
Chinese and U.S. officials have raised the prospect of resuming stalled talks over trade between the two nations after President Donald Trump ratcheted up the pressure by announcing this week a huge new round of potential tariffs.
"To the extent that China wants to make structural changes, I and the administration are available," Mnuchin said on Thursday.
More broadly on the outlook for the U.S. economy, the Treasury secretary said he doesn't consider the flatter yield curve -- which lately is showing a narrowing in the spread between short- and long-term government debt yields -- as indicative of an impending recession.
House Republicans including Jeb Hensarling of Texas and Andy Barr of Kentucky grilled Mnuchin on the negative impact of raising trade barriers. Their concerns are an indication that China and Europe's retaliatory tariffs against U.S. exports would hit hardest in states that helped propel Trump to the presidency, bringing home the risks of a trade war ahead of midterm elections.
Of the 10 states that face potential Chinese tariffs on more than $1 billion of their exports, seven backed Trump in 2016, according to a report by the American Action Forum, a Washington-based group that opposes protectionist trade policies.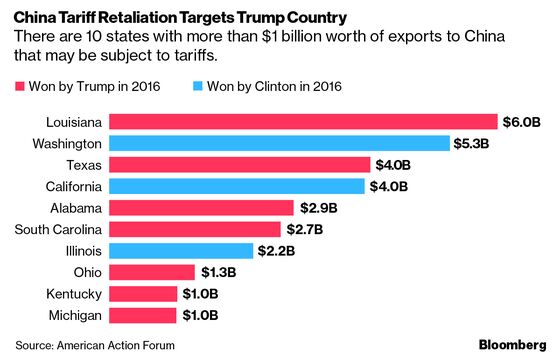 After the U.S. on Tuesday unveiled a list of Chinese imports worth $200 billion that could face higher duties, China's Vice Minister of Commerce Wang Shouwen said "when we have a trade problem, we should talk about it." While that came amid fresh threats of retaliation from Beijing, it matches some willingness from the Trump team to resume talks at a high level, according to a person familiar with the administration's thinking.
Communications between senior members of the Trump and Xi administrations have petered out since a third round of formal negotiations ended with scant signs of agreement in early June. The U.S. pushed ahead with a plan to slap 25 percent tariffs on $34 billion of Chinese imports last week, with plans for another $16 billion to follow, spurring retaliation in kind from Beijing. Trump's latest salvo threatens to push the trade fight into new territory, with China limited in using tariffs to push back. The government has, however, vowed to respond.
Washington and Beijing now have about seven weeks to strike a deal or dig in for a trade war that could upend corporate supply chains and raise prices for consumers around the world. The U.S. tariffs on $200 billion of Chinese goods are scheduled to take effect after Aug. 30, when the Trump administration's consultation process ends.
House Speaker Paul Ryan on Thursday drew a stark difference between his vision for trade and Trump's, rejecting tariffs and warning that pulling out of trade agreements is a threat to the U.S. economy.
"We risk having American products locked out of new markets, jobs moved overseas, and a decline in American influence," Ryan said at the Economic Club of Washington. "As our generals will tell you, these agreements are just as important for our national security as they are for our economy."
Some Republicans and businesses have warned the tariffs could have a far-reaching impact on the economy, undermining business investment and driving up prices for consumers. Politicians are also gauging the impact ahead of congressional mid-terms in November. Retaliation from China has been targeted at ratcheting political pressure on Trump, including on soybeans that come from his agricultural support base.
At Thursday's hearing, Republican Representative Ann Wagner said her state of Missouri is feeling the "present-day" impact of the trade war. Soybean futures have been spiraling lower since late May, just as the trade dispute was gearing up. Mnuchin assured Wagner that he's following soybean prices daily, calling China's targeting of the commodity as "unfair."
Trump has been moving forward with tariffs against China since his officials concluded in March that Beijing violates U.S. intellectual-property rights, such as by forcing American firms to hand over technology.