Fund Managers Reduce Korean Stock Exposure Amid Trade War Risks
(Bloomberg) -- As a trade war develops between the world's two largest economies, some fund managers have begun unloading shares not only in China but also in one of its major suppliers: Korea.
"We have reduced our holdings in South Korea and China because of our concerns," said Walter Price, a San Francisco-based senior portfolio manager at Allianz Global Investors, which oversees $600 billion globally. While Asia's largest economy will be "most hurt" by the conflict, "if China slows down a lot, South Korea will be hurt as well."
The costs of the trade war will be spread across Asian countries which supply components for Chinese products, according to a report by Bloomberg Intelligence chief Asia economist Tom Orlik. South Korea, which sends nearly a quarter of its total exports to China, would see its gross domestic product fall 0.9 percent if its biggest trading partner cut imports by 10 percent due to the conflict, the report said.
Erik Zipf, who runs a $500 million emerging market fund at DuPont Capital Management, said Korea's chemicals and steelmakers will be among sectors hit by American trade battles with China and other countries.
"Korean chemicals, Taiwan semiconductors, all of these things feed into intermediate goods in China that are exported to the U.S.," he said. "The EU is afraid that steels from Korea will be flooded in their market because of the U.S. steel tariffs."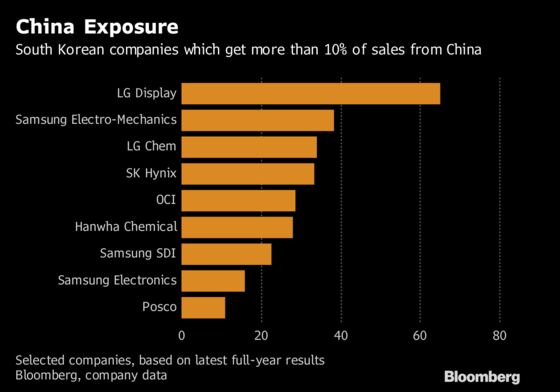 Samsung Electronics Co., the country's largest stock, could be one bright spot. Korean semiconductor makers may see a smaller negative impact than Taiwanese peers due to their greater number of domestic factories, said Hyun-Su Kim, a senior fund manager at IBK Asset Management in Seoul. Samsung is also better positioned to handle the trade war than Apple Inc., which relies on manufacturing in China, according to DuPont Capital's Zipf.
"Samsung's memory chips which are directly exported to companies in the U.S. for use in servers will be fine," Kim said. "But for the chips used for Chinese consumer goods such as mobile phones, PC, and laptops, they will be affected."
The MSCI Korea Information Technology Index is down less than 1 percent since the end of February amid the escalating trade tensions, compared with a 6.4 percent drop in the broader MSCI Korea Index. The MSCI Korea Materials Index, which comprises makers of steel and chemicals, has tumbled 16 percent in that period, making it the country's worst-performing sector.
Foreign investors have sold a net 3.7 billion dollars worth of Korean shares this year. In addition to the U.S.-China clash, market sentiment has been hurt by the Korean government's moves toward "anti-business initiatives" including a minimum wage increase and higher capital gains taxes, said Zipf.
Improvement in the environment for trade may be required for investors including Allianz's Price to become more positive again on South Korea, as well as China.
"If China becomes fairer in its tariff policy, by allowing more manufacturing imports so there is more of a balance of trade in all products, this would help South Korean companies with leading manufacturing expertise," said Price, adding that a resolution of these issues would encourage him to boost holdings in both countries' shares.