Trump's Not Wrong on Soy Prices, But It's Not the Whole Picture
(Bloomberg) -- Donald Trump may be in Brussels, but he's got U.S. soybeans on the brain.
As leaders gathered at a two-day North Atlantic Treaty Organization summit, this was sent from the president's official Twitter account: "I am in Brussels, but always thinking about our farmers. Soy beans fell 50% from 2012 to my election. Farmers have done poorly for 15 years. Other countries' trade barriers and tariffs have been destroying their businesses. I will open things up, better than ever before, but it can't go too quickly. I am fighting for a level playing field for our farmers, and will win!"
His comments come as soybean futures have been spiraling lower since late May. The oilseed has gotten caught in the crossfires of the U.S.-China trade war. China slapped tariffs on a variety of American farm goods that went into effect earlier this month in retaliation for Trump's duties. The oilseed is the top agricultural commodity that the U.S. ships to China by far and is among the largest products for overall exports.
The thing is, Trump's not wrong about prices. Soybeans reached a record of $17.89 a bushel in 2012, and were down by more than 40 percent by the presidential election in November 2016. But that all-time high price came in the midst of a terrible drought in the U.S. Midwest that severely hurt crops. So, when prices came tumbling down, it was a typical market reaction to the end of a supply shock. Also driving the declines: farmers have been collecting bumper harvests in the years since the drought.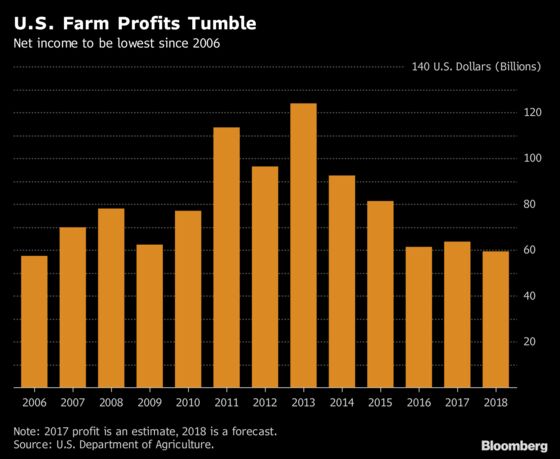 But what's happening now for prices is based on demand fears, and changes in consumption can sometimes have a more lasting impact for markets than supply shifts. Agriculture is one of the few sectors of the U.S. economy that maintains a trade surplus, and China is one the most important markets. (As are Canada and Mexico, other adversaries in Trump's trade battles.) A big shift in trade flows could have major consequences. On Wednesday, November soybean futures reached the lowest price since the contract began trading in 2014.
When China's tariffs went into effect, John Heisdorffer, a soybean grower from Keota, Iowa, and president of the American Soybean Association, said this in a statement: "The math is simple. You tax soybean exports at 25 percent, and you have serious damage to U.S. farmers."
Trump's comments about U.S. farm incomes also don't tell the whole picture. While the government forecasts farmer profits will drop to a 12-year low in 2018, the past decade saw several years of record incomes.