Bargain Hunters Send Philippine Stocks Surging While Asia Sinks
(Bloomberg) -- It was a bad day for stock investors in Asia -- except for those with Philippine shares.
The nation's benchmark index rallied 1.4 percent, the most since the end of June, crossing above the 7,300 level for the first time in a week. The reason? Optimism that the Philippines will stay sheltered from a U.S.-China trade war, while the country's second-largest pension fund said opportunities have opened up after shares succumbed to a bear market.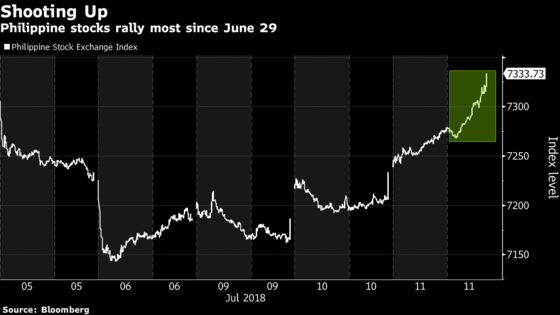 "We add when we see that there is opportunity," Emmanuel Dooc, president at Social Security System, said in an interview. "There are some stocks that are resilient, and there are those that fell that we look at because of their potential."
The Philippine Stock Exchange Index closed at 7,333.73, with 24 of its 30 members up. Real estate company SM Investments Corp. and Bank of the Philippine Islands provided the biggest boosts, with gains of at least 3.4 percent. The gauge's feat is particularly noteworthy on a day when regional markets from Tokyo to Ho Chi Minh City sank more than 0.8 percent.
Confidence is slowly returning to Philippine shares after the benchmark index sank into bear territory last month, plunging as much as 23 percent amid rising inflation, U.S.-China trade worries and a weakening in the peso. The PSEi's valuation of 15.8 times estimated earnings for the next year is now 11 percent below its three-year average, data compiled by Bloomberg show.
Still, overseas investors are not in a rush to come back. They sold a net $1.6 million of Philippine shares on Wednesday, bringing this year's withdrawals to $1.27 billion and breaking the previous $1.19 billion record for all of 2015.
Analyst including Paul Michael Angelo at Regina Capital Development Corp. and Rachelle Cruz at AP Securities Inc. said the U.S-China trade conflict may have little impact on the Philippine economy, adding that local inflation is a bigger concern for investors.