Yuan Bears Turn Bulls on Expectations Greenback Has Peaked
(Bloomberg) -- The yuan is about to get bailed out by a weaker dollar, according to forecasters who correctly called the Chinese currency's recent downtrend.
Investec Bank Plc, PNC Financial Services Group Inc. and Svenska Handelsbanken AB all see China's currency strengthening in the second half even as bigger-name forecasters have rushed to cut their projections. Among their reasons for the yuan's advance are a falling dollar, an anticipated easing of China-U.S. trade tensions and the willingness of the Chinese authorities to defend the currency.
The yuan is the worst-performing currency in Asia since mid-June, sliding nearly 4 percent, hurt by China's move to relax its monetary stance to counter growth threats including rising tariffs. The slump prompted global investment banks from Bank of America Merrill Lynch to ING Groep NV to weaken their year-end estimates for the yuan on a potential worsening of the trade frictions.
"We suspect that the dollar is at or very close to its peak," said Investec economist Ryan Djajasaputra, who predicts the yuan will rise more than 4 percent to 6.35 versus the greenback by year-end. "You will see some stability on the trade front and therefore perhaps a degree of appreciation in the yuan over the next 6 to 18 months."
The yuan fell 0.37 percent to 6.6650 per dollar as of 4:36 p.m. in Shanghai on Wednesday after the U.S. pushed ahead with plans to impose tariffs on an additional $200 billion in Chinese goods by releasing a list of targeted products.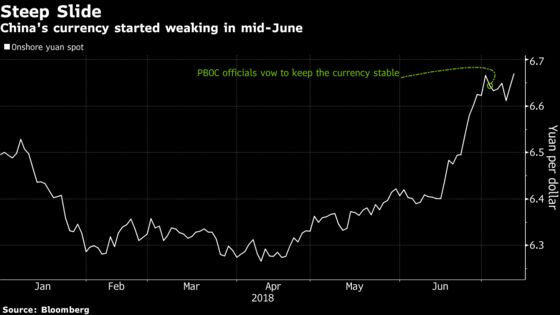 Bill Adams, senior economist at PNC Financial Services -- who like Djajasaputra accurately predicted the yuan's second-quarter slide -- says dollar weakness will help the yuan rally to 6.58 by the end of 2018.
Adams shares the view that the tariffs the U.S. imposes on imports from China are "likely to be less onerous than feared." He also says a recovery by the euro and pound could lead to "a weaker overall outlook" for the greenback. The Bloomberg Dollar Spot Index has slipped 1.3 percent since climbing to its highest in nearly a year on June 27.
China's currency will strengthen to 6.55 per dollar toward year-end, said Bjarke Roed-Frederiksen, senior economist at Sweden's Svenska Handelsbanken, in part because China will intervene and use other measures if needed to guarantee exchange-rate stability.
China's authorities have already voiced support for the yuan to keep it from sliding, with officials from the People's Bank of China speaking up last week. Some major Chinese banks sold the dollar after the yuan fell past 6.7 per greenback on July 3, a move that strengthened the currency, according to traders who asked not to be named.
"A key concern of China's government is stability," said Investec's Djajasaputra. "If the trade situation deteriorated and the yuan witnessed further downward pressure, we would expect the authorities to step in, particularly if there were signs of capital flight."