U.K. Growth Rebounds From Bleak Winter, Consumer Spending Jumps
(Bloomberg) -- The U.K. economy is bouncing back from a near standstill in the first quarter and a summer boost to consumer spending is supporting the pickup.
Gross domestic product product increased 0.2 percent in the three months through May, the Office for National Statistics said in its first publication of rolling monthly growth figures. In May alone, output gained 0.3 percent, while a report from Barclaycard showed household spending rose at the fastest annual pace in more than a year in June.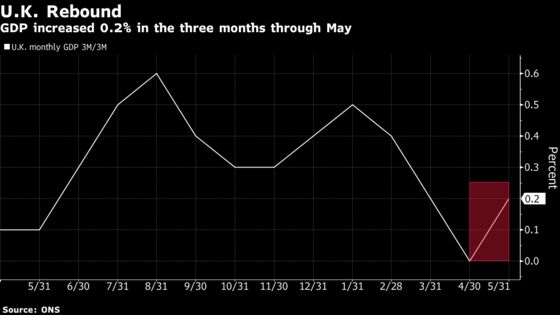 The figures support Bank of England Governor Mark Carney's argument that the slump at the beginning of the year was temporary and weather related. Policy makers are considering whether to raise interest rates as early as next month if evidence suggests the U.K. expansion is fast enough to stoke domestic inflation pressures.
While the economy is stabilizing, the big uncertainty for the outlook remains politics. Prime Minister Theresa May this week lost two senior ministers in the space of a day, and is under pressure from pro-Brexit lawmakers in her Conservative Party. As the government fights over how to leave the European Union, businesses are furious over the lack of clarity and investment decisions are at risk.
The change in format for the GDP release means that the BOE won't have a full second-quarter estimate of growth when it meets next month. Carney has nevertheless said that the rate-setting panel will have enough information to make a decision.
Tuesday's report suggests growth will accelerate in the second quarter from the first, when it slowed to a meager 0.2 percent. Services would have to fall 1.7 percent in June to have a neutral impact on the period, and construction would have to decline 1.5 percent.
What Our Economists Say:
"Growth is on course to rebound in the second quarter after a weak first quarter. Assuming Prime Minister Theresa May and her government manage to survive the prevailing political storm, all signs from the data imply the Bank of England will raise interest rates in August."

--Dan Hanson and Jamie Murray, Bloomberg Economics. Read the full REACT.
Recent evidence suggests that England's success in the World Cup soccer tournament is boosting U.K. consumer activity. Barclaycard said Tuesday that spending jumped 5.1 percent in June from a year earlier.
Construction output surged 2.9 percent in May, the most in more than two years, extending a rebound from a snow-blighted first quarter, the statistics office said. Manufacturing production gained a weaker-than-expected 0.4 percent. Overall industrial production unexpectedly fell, hurt by a shutdown at the Sullom Voe oil and gas terminal in the North Sea.
Separate figures showed the trade deficit in goods was little changed at 12.4 billion pounds. The overall trade gap narrowed.