U.K. Politics Is the Wild Card for BOE's August Rate Increase
(Bloomberg) -- Political turmoil fanned by Brexit may be the last hurdle for a Bank of England interest-rate increase in August.
With the U.K. economy bouncing back and consumers willing to spend again amid good weather and World Cup fever, politics is the big unknown three weeks before Governor Mark Carney and fellow officials announce their next policy decision. For now, investors are betting on a quarter-point hike.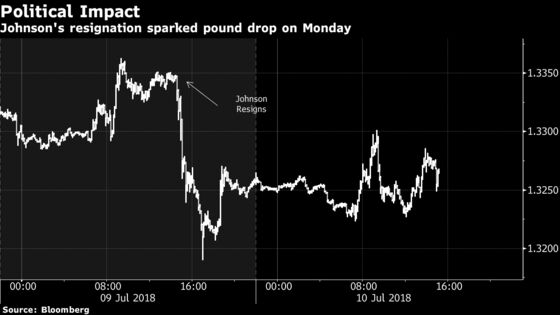 Prime Minister Theresa May appears to have survived the loss of two high profile ministers this week, but anger within the Conservative Party over Brexit is keeping alive the prospect of a leadership challenge or general election. Two more Tories quit their party roles on Tuesday, while some euroskeptics are said to be considering a radical last ditch move that could bring down her minority government later this year.
While the central bank has always said Brexit may restrain the U.K. economy, it has thus far seemed prepared to push ahead with tightening as the nation thrashes out a deal with the European Union. But an election, or the growing risk of leaving the EU without new trading arrangements in place, would add additional uncertainty when investment is already being hit and companies are complaining about the lack of clarity.
"If the current political chaos affects negotiations, I'd expect the BOE to be pretty worried," said Victoria Clarke, an economist at Investec in London. "If the BOE faces the prospect of no deal, they will be really nervous about doing anything to tighten policy."
Foreign Secretary Boris Johnson quit on Monday just hours after the resignation of the Brexit Secretary David Davis. While they were protesting May's plans for a closer relationship with the EU, the risk that more walkouts would lead to the government's fall pushed the odds of an August rate hike to 70 percent from around 80 percent previously. The probability assigned by investors rebounded after the latest growth figures.
"Increased political uncertainty may impact on growth particularly if the resignations trigger a leadership election, but you've got to think of other issues," said George Buckley, chief economist at Nomura International Plc. "Why did Davis and Johnson resign in the first place? Because May adopted a softer Brexit stance, which means, if anything, stronger growth. So the bank should feel more confident."
There are recent examples of political upheaval adding to policy makers' caution. In June 2017 the BOE's chief economist Andy Haldane, one of the three officials currently pushing for higher rates, said that year's surprise election had "thrown up a dust-cloud of uncertainty," and that he didn't "think adding a twist or a turn from monetary policy would, in this environment, be especially helpful in building confidence."
What Our Economists Say:
"Unlike the run up to the May meeting, the data has been strong enough to justify hiking. The BOE's main concern will now be the political drama in Westminster, though it would probably take a general election to stop the MPC in its tracks."
--Dan Hanson, Bloomberg Economics
The developments also risk drawing the central bank back into the debate surrounding Brexit. It has previously faced heavy criticism for its forecasts before and after the vote in 2016, which the anti-EU side saw as overly gloomy. The referendum itself threw the central bank into crisis-fighting mode two years ago, prompting an interest-rate cut and a new lending program for banks.
Policy makers reversed that rate cut in November last year, raising interest rates to 0.5 percent in the first hike in more than a decade. A potential hike in May, at one stage seen as almost certain by markets, was ultimately scuppered after bad weather saw the U.K. economy grind to an near-standstill in the first quarter.
Still, with growth momentum building, policy makers should focus on improving data when they make their next decision, according to Peter Dixon, an economist at Commerzbank AG.
"You can't continue to put off interest-rate moves on the basis of short-term political fluctuations," he said. "The time has come for the bank to say if the economy is holding up, it's time to go."