Temasek's Big Fear is U.S. Recession Just as Trade Woes Spread
(Bloomberg) -- Temasek Holdings Pte., the Singaporean state investor that signaled its intent to slow its investment pace, fears that slowing economic growth in the U.S. adds to mounting risks just as trade tensions are weighing on global confidence and capital spending.
A lot of the spare capacity in the U.S. economy has "disappeared," creating the risk that the U.S. could eventually roll into a recession as the Federal Reserve keeps hiking rates, Head of Strategy Michael Buchanan said in a Bloomberg TV interview in Singapore on Tuesday. That's coupled with escalating trade rhetoric and rising U.S. tensions with the likes of Europe and Canada, he said.
"That is a source of significant concern and is part of the reason for us to temper our pace of investments," Buchanan said. He ruled out the potential for a crisis-type event in the U.S., saying that he expects a "normal cyclical recession."
Temasek, which poured $95 billion into everything from startups to asset managers in the past five fiscal years, is among investors turning more cautious as threats to the global economic expansion mount. The firm said at its annual briefing that it may slow investment for nine to 18 months, citing rising risks, volatility and the likelihood of moderating global growth.
The value of the Temasek portfolio climbed 12 percent to S$308 billion ($227 billion) in the year to March 31, the second straight record, it said Tuesday.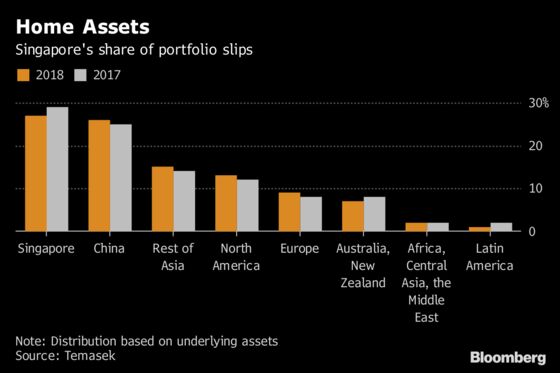 Here are some key numbers from Temasek's annual review:
The value of the firm's portfolio climbed 12 percent to S$308 billion ($227 billion) in the year to March 31, the second straight record.
Temasek made S$29 billion in new investments, up from S$16 billion in the previous year. Divestments totaled S$16 billion.
Total shareholder return in Singapore dollars was 12.2 percent, down from 13.4 percent in the previous period. Over 10 years, the total shareholder return in Singapore dollars was 5 percent. From inception in 1974: 15 percent.
The investment firm's early purchase of Alibaba Group Holding Ltd. stock keeps paying off, with that company's shares jumping 70 percent over the period. It also benefited from gains in Chinese banks. Among the Singapore holdings, which make up more than a quarter of the portfolio, DBS Group Holdings Ltd. surged 42 percent and Singapore Airlines Ltd. climbed 7.7 percent. Singapore Telecommunications Ltd. slumped 14 percent in that period.
Temasek expects to continue with a large position in Chinese banks, executives said at the briefing Tuesday. China will be able to address challenges and re-balance its economy, even though that transition may mean slower growth, they said.