Temasek Can Beat Trump's Trade War
(Bloomberg Opinion) -- Temasek Holdings Pte wants to slow down, lest it wander too far from its base just as the skies start to darken. A messy trade war, coupled with rising U.S. interest rates and credit strain in China, could make a last-minute hunt for yield risky.
The state investor of one of the world's most open economies made S$29 billion ($21.4 billion) in fresh bets last fiscal year to create S$14 billion of wealth for its only shareholder – Singapore's finance ministry.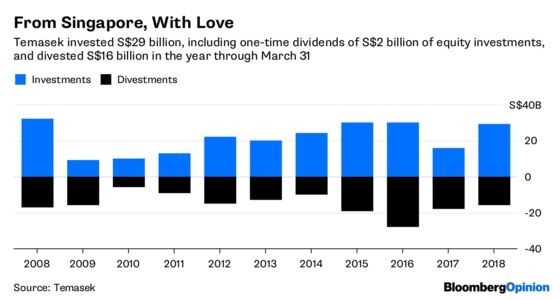 The one-year return of 12 percent on its S$308 billion portfolio of everything from Singaporean telecoms firms to Chinese banks, American payment systems and European chemicals companies makes it a good year. However, rolling 20-year returns, which used to be in the 13 percent to 17 percent vicinity until 2013, have halved as Western central banks inflated asset prices.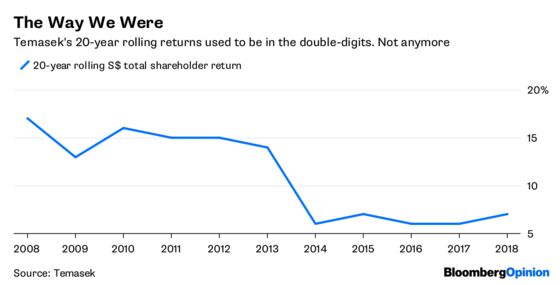 Now that the easy-money cycle is reversing, Temasek says it will slow the pace of investments over the coming nine to 18 months.
With U.S. President Donald Trump's late-stage fiscal stimulus forcing the Federal Reserve to keep raising interest rates, the worry for investors is the spillover effect on global growth. Besides, like everyone else, Temasek is becoming increasingly concerned about the Trump administration's hardline approach to trading partners, especially China. Compared with last year, the firm's returns expectations over the next 20 years are mellower, and more uncertain.
Simulations last year looked something like this: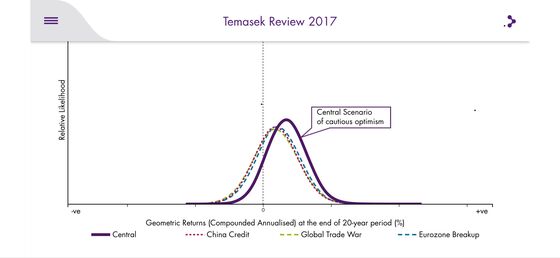 This year, the bell curve is flatter: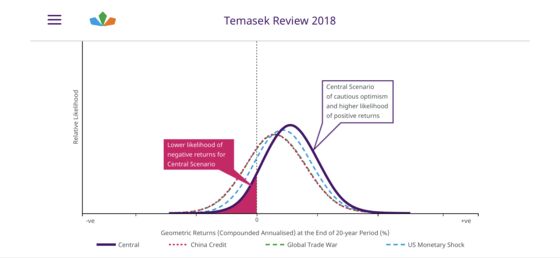 Mind you, Temasek doesn't expect a full-blown tariff war (yet). But the current period of "heightened" trade tensions, as Michael Buchanan, head of portfolio strategy and risk, describes it, will be damaging.
Among Temasek's top investments, DBS Group Holdings Ltd., Singapore's biggest bank, gave total shareholder returns of 46 percent in the year through March 31. China Construction Bank Corp. and Industrial & Commercial Bank of China Ltd. may have failed to match Alibaba Group Holding Ltd.'s 60 percent payday, but they still earned Temasek a tidy 26 to 29 percent.

Temasek saw a five in six chance last year of its portfolio earning it anything between minus 11 percent to 14 percent. At 12 percent, the return was near the top end of expectations. For the fiscal year that started in April, it anticipates an outcome in the range of negative 17 percent to 24 percent. The uncertainty has worsened.
Investors with more aggressive mandates may want to chase risk, but returns from Temasek (and sovereign wealth fund GIC Pte) are crucial for financing the city-state's government budget. Doing less may be just the right thing.