Trade Tensions Turn Into Mood Killer for Investors in Euro Area
(Bloomberg) -- Investors' confidence in the euro area and Germany took another knock as the escalation of trade tensions between the U.S. and many of the world's major economies cast a cloud over improving data.
The ZEW Center for European Economic Research said its measure of investor expectations for Germany fell to minus 24.7 in July from minus 16.1 in June, recording a fifth straight decline. A gauge for the euro area also plunged. Both are at levels not seen since 2012, when the region was mired in a crippling debt crisis.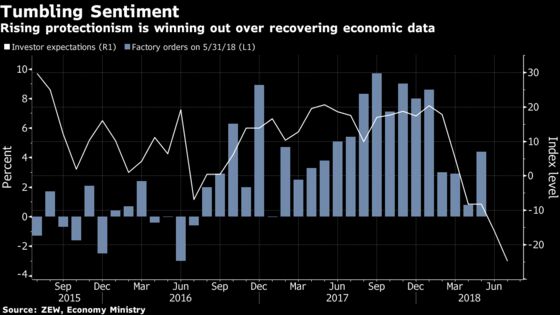 The downbeat assessment comes after more recent economic data from Germany suggested Europe's largest economy is beginning to stabilize, with factory orders, industrial output, and service-sector activity all improving. However, there's no ignoring the threats, particularly the ramping up in protectionism that took another major step last week, when U.S. tariffs on $34 billion of Chinese imports came into force and China immediately retaliated.
Positive news have been "greatly overshadowed by the anticipated negative effects on foreign trade," ZEW President Achim Wambach said in a statement.
European Central Bank President Mario Draghi reiterated on Monday that most of the risks to the euro-area outlook originate outside the region, highlighting in particular the rise in protectionism. Warnings have also come from the Federal Reserve and the Bank of England.
The International Monetary Fund has said that risks to Germany's economic outlook are tilted to the downside, after growth last year reached the fastest pace since 2011.
German automakers are particularly vulnerable to a surge in inward-looking policies. Executives from Volkswagen AG, Daimler AG and BMW AG have lobbied the Trump administration to refrain from slapping import tariffs on European cars, a step they argue would cause irreparable damage to business.
"The assessment of the German economy has been on a roller-coaster ride, moving from overly cheerful and optimistic to almost depressive and pessimistic on the back of disappointing soft and hard data," said Carsten Brzeski, chief economist at ING-Diba in Frankfurt. "The truth is somewhere in the middle. The economy is nowhere near falling off a cliff. Instead, it seems to be in a transition period toward growth normalization."