Competition Was a Culprit in the Housing Bust
(Bloomberg) -- Blame for the 2007 to 2009 financial crisis has been pinned on everyone from greedy financiers and big banks to irresponsible home buyers. Add cutthroat local competition to the list of culprits.
Local banks in competitive markets lowered their lending standards significantly before the crisis, a move associated with bad outcomes when the market turned. That's the lead item in this week's research roundup, which also takes a look at the perks of cheap airfare, parental work schedules, China's competitive threat to its neighbors, and a reason why the robot takeover might start in a pub. Check out this column each week for a rundown of recent studies from around the world.
Bank Competition, Risk Taking, and Their Consequences: Evidence From the U.S. Mortgage and Labor Markets
Published July 6, 2018
Available on the IMF website
Banks in U.S. counties with competitive mortgage markets lowered lending standards by twice as much as those with concentrated markets from 2000 to 2005, according to this paper by International Monetary Fund researcher Alan Xiaochen Feng. The effect was only present for loans issued by local banks and didn't exist for national banks, which are exposed to the average competition across all of the local markets they're operating in. Banks' loose lending led to worse outcomes once home prices dropped, as foreclosures and bank closings followed. The fallout extended to local employment, which declined more in the markets with greater competition and price volatility.
Bargain airfares aren't just for budget-conscious vacationers: they're also helping people work together more closely. When Southwest Airlines Co. expanded to new cities, the number of collaborations with chemistry labs in those markets increased by 50 percent. Scientists engaged in more novel projects as they more easily met in person with colleagues who have certain skills or gained access to specialized equipment, according to the paper by researchers including Christian Catalini of the Massachusetts Institute of Technology.
While this finding is limited to one airline, it's likely that a drop in travel prices had a broader economic effect. The cost per air mile in the U.S. has declined by more than half in the past 30 years, so "improvements in air travel are likely to affect a much larger population of individuals."
Weekly (Demo)graphic: Nonstandard Schedules

When Work Isn't 9 to 5: Gender, Industry/Occupational Context and Nonstandard Work Schedules Among Parents
Published July 2018
Available on the Census website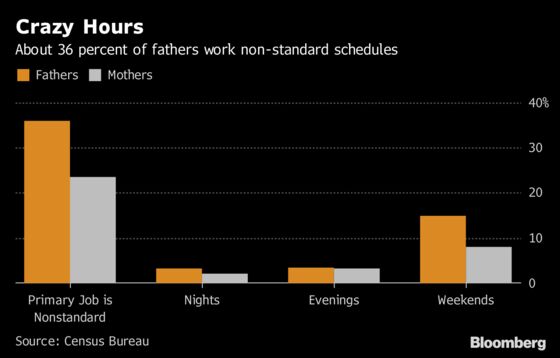 About 38 percent of employed parents -- and 29 percent of parents as a whole -- work nonstandard hours, with more men than women eschewing the 9-to-5. Occupationally, food preparation and serving has the highest share of nonstandard workers, while computer and mathematical has the lowest. Why care about families, in particular, when it comes to unusual workdays? "As employment continues to shift towards service-based industries, where nonstandard work is most prevalent, families will increasingly need to account for parental work schedules that do not always involve regular daytime hours," Census researchers Brian Knop and Lynda Laughlin wrote.
Exposure of Belt and Road Economies to China Trade Shocks
Published June 2018
Available on the World Bank website
China is often blamed for shuttering goods producers in the U.S., and that painful side-effect of globalization may be headed to Asia. Economies that have been integrating with the country -- think Vietnam, Malaysia, and Thailand -- had benefited from Chinese demand, but are increasingly competing with the economic behemoth. From 1995 to 2015, such economies saw a larger effect from Chinese demand, so they got a net boost from China's growth.
But starting in 2005, the negative effects on those nations began to get stronger. China's exports in sectors such as plastics and textiles created "competition shocks" that increasingly hurt those countries' own shipments abroad. "Further integration with China will likely involve stronger competitive pressures in final goods markets," author Paulo Bastos wrote. And if China's investments in automation and robots make its exports more competitive, producers in economies across Southeast Asia may feel the squeeze.
Robots Are (Finally?) Coming

Tight Labour Markets and Self-service Beer: Is the Productivity Slowdown About to Reverse?
Published July 2018
Available on the Bank of England website
Robots are popping up all over Britain -- and Bank of England researchers think that's good news for the productivity outlook. Productivity growth has slowed in the U.K. and other advanced economies since the Great Recession. It's hotly debated what's driving that trend, but policy makers around the world hope it will reverse: better productivity allows for stronger wage gains and economic growth.
The Bank of England's regional offices had long reported that their company contacts were choosing to hire rather than to invest in capital when they needed to expand. Now, as the labor market gets tight and workers become more expensive and scarce, employers are turning to machines. The researchers even cite examples, including a self-serve beer tap that could become the bartender of the future. "Robotic technologies in particular are being deployed in a mix of manufacturing and service industries, at relatively low cost and often with payback periods of less than five years," the authors wrote. In the long run, that could give productivity a boost.