Emerging Markets Extend Gain as Dollar Loses Traction: Inside EM
(Bloomberg) -- Emerging-market stocks and currencies extended gains into a third day as the U.S. dollar resumed losses amid a lull in the trade war.
Mexico's peso boosted its world-leading rally since leftist Andres Manuel Lopez Obrador's election earlier this month. Meanwhile, the Turkish lira's volatility soared amid investor concern that policy makers will hesitate to unwind months of stimulus after President Recep Tayyip Erdogan claimed exclusive power to name the central bank governor and appointed his son-in-law as treasury and finance chief.
"The external context should have already played out adversely for EM and we now expect a rebound," said Cristian Maggio, head of emerging-market strategy at TD Securities in London. "But markets don't always behave according to our expectations, so we'll have to wait and see."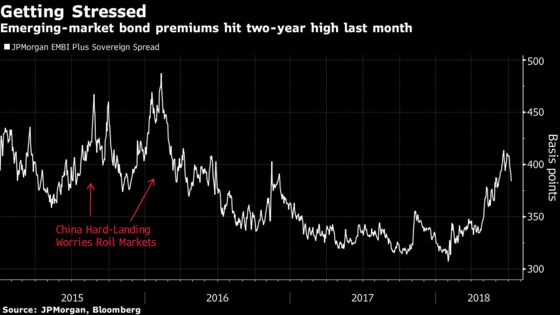 After the worst losses in almost three years, juicy valuations are being met by technical signals that emerging markets are getting ready to rebound. Still, this doesn't seem to be the case for runaway optimism of the kind we saw in the two-year, $8 trillion rally through January 2018. Morgan Stanley strategists dubbed the recent recovery a "head fake" and recommended selling on gains in stocks and bonds, while Goldman Sachs Group Inc. said developing nations "now offer relative value." JPMorgan Chase & Co. said equity valuations look attractive, yet added that there's "no hurry to move back" in this quarter.
HIGHLIGHTS:
MSCI Emerging Markets Index increased 0.3 percent to 1,078.53
CBOE Emerging Markets ETF Volatility Index dropped 4.7 percent
MSCI Emerging Markets Currency Index rose 0.2 percent
Risk premium on EM sovereigns flat at 343bps: JPMorgan indexes
Turkey current account balance
Poland rate decision
Malaysia rate decision
Romania CPI, Czech CPI, Ghana CPI
MEXICO:

Mexbol index dipped 0.5 percent to 48,994.14
Peso rose 1.6 percent to 18.8875 per dollar
10-year local-bond yield fell four basis points to 7.69 percent
Both real money and leveraged accounts seen reducing long peso positions against the dollar around 19 key level, according to traders
Mexico international reserves rose to $173.4b, Banxico says
Televisa, the world's biggest producer of Spanish-language television, surged after saying programming sales climbed 36 percent in the second quarter
Santander Mexico Double Upgraded at Credit Suisse on Lower Risk

BRAZIL:

Ibovespa declined 0.3 percent to 74,753.94
Real gained 2 percent to 3.80 per dollar
10-year local-bond yield declined 15 basis points to 11.22 percent
Head of nation's Superior Court confirmed the rejection of former president Luiz Inacio Lula da Silva's freedom bid
Brazil's outlook is expected to improve after elections in October because the next government will be forced to address the fiscal deficit no matter who is elected, Marco Antonio Barros, CEO of Brasilprev Seguros e Previdencia
UBS said Brazilian equities should underperform bonds
Brazil Rolls Over All 14,000 FX Swaps Offered
JBS Corruption Risk Still Too High for Norway's $1 Trillion Fund

Click for market news on ARGENTINA and ANDES
TURKEY:

Borsa Istanbul 100 Index fell 3 percent to 96,274.69
Lira gained 0.4 percent to 4.7128 per dollar
Newly appointed Finance and Treasury Minister Berat Albayrak said budget and fiscal discipline will be "maintained in a better way"
"I'd have expected Erdogan to have learned the bitter cost of messing with markets," said Atilla Yesilada, economist at GlobalSource Partners in Istanbul
Commerzbank said capital controls may be the nation's only option
Meet the Erdogan Son-in-Law Now Running Turkey's Economy
Rattled Analysts Wonder What Will Become of Turkish Central Bank
Erdogan's New Dynasty Makes Turkey Uninvestable: Marcus Ashworth

RUSSIA:

MOEX Russia Index fell 0.3 percent to 2,365.17
Ruble rose 1.3 percent to 61.665 per dollar
10-year local-bond yield declined two basis points to 7.59 percent
Second-quarter current account surplus expanded less than expected
Russia Plans $80 Billion Debt Spree Despite Sanctions Scare

SOUTH AFRICA:

FTSE/JSE Africa All Share Index fell 0.3 percent to 58,027.11
Rand gained 1.2 percent to 13.2566 per dollar
9-year local-bond yield gained four basis points to 8.662 percent
The nation's business confidence slumped for a fifth consecutive month amid a weaker rand and the threat of a global trade war
"Rand strength in the past 1-2 weeks is a function of broader EM FX, a narrowing sovereign CDS spread, and a floor/consolidation in gold prices," said Henrik Gullberg, head of EM trading strategy at Nomura International in London

Click for market news on POLAND and HUNGARY
CHINA:

Shanghai Composite Index increased 0.4 percent to 2,827.63
Offshore yuan fell 0.1 percent to 6.6328 per dollar
10-year local-bond yield gained less than one basis point to 3.5575 percent
The yuan is about to get bailed out by a weaker dollar, according to forecasters who correctly called the currency's recent downtrend
"The falling yuan is a concern, but as long as it's not in a severe downtrend, it's not the biggest consideration when we're investing in local-currency bonds in China," said Manu George, director of fixed income at Schroder Investment Management Ltd. in Singapore
Factory inflation accelerated in June as the price of commodities held up
PBOC adviser Liu Wei said there's room for an additional liquidity injection, China Daily reports
Foreign Funds Keep Pouring Into China Despite Yuan's Jitters
Convertible Bond Sale Flop Shows Financing Pressure in China

INDIA:

Sensex Index rose 0.8 percent to 36,239.62, highest in more than five months
Rupee declined 0.1 percent to 68.821 per dollar
10-year local-bond yield gained one basis point to 7.9004 percent
"Markets are comfortable with the first-quarter earnings outlook of companies," said Deven Choksey, managing director at KR Choksey Shares & Securities Pvt. in Mumbai
Government sold 70-day cash-management bill on Tuesday
CMB sale is being seen as another negative and that's weighing on bonds, said Debendra Kumar Dash, a trader at AU Small Finance Bank in Mumbai

Click for more on markets in ASIA