Russia Plans $80 Billion Debt Spree Despite Sanctions Scare
(Bloomberg) -- Russia's Finance Ministry laid out its most ambitious borrowing program yet with a plan to raise almost 5 trillion rubles ($80 billion) domestically over the next three years, even as warnings sound over the global buildup of debt and foreign investors turn cautious after U.S. sanctions.
Under the terms of a draft plan for 2019-2021, the government will borrow 1.48 trillion rubles next year, up from just over 1 trillion rubles in 2018. The Finance Ministry's target will then rise by a quarter in 2020 before falling the following year, according to a document that sets out the guidelines for fiscal and tax policy. Russia is set to run a primary budget deficit -- which excludes the cost of servicing its debt -- throughout the period.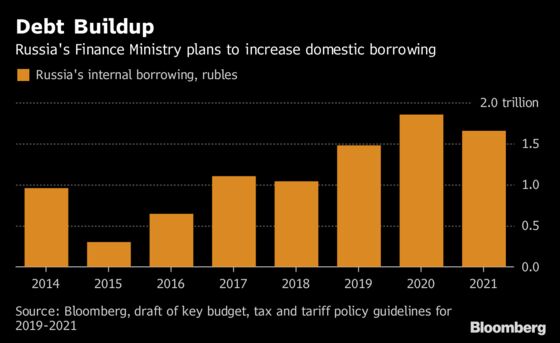 Far from rethinking its approach after fresh sanctions in April, Russia is looking to keep its sovereign wealth fund intact and rely mostly on domestic borrowing to finance its plans for infrastructure spending. As global tensions ratchet up and developing economies try to adjust to expectations of higher U.S. interest rates, Russia must also cope with a new reality after foreign investors offloaded local-currency bonds following a round of American penalties, showing how quickly the domestic market can turn vulnerable.
Since then, the Finance Ministry in Moscow has had to contend with rising borrowing costs as investors demand a premium to hold the nation's debt. It sold less than half of the planned amount last quarter but still wants to meet this year's target. The yield on the government's 10-year bonds has jumped over 50 basis points since the sanctions three months ago, partly as a result of a broader sell-off in emerging markets.
The appetite for debt is growing even though the Finance Ministry expects an increase in budget income, thanks in part to higher oil prices. It's also counting on bigger dividend payouts from state companies, in addition to a planned hike in value-added tax, which will bring an extra 634 billion rubles next year.
In 2019, the ministry projects revenue will exceed spending by almost 2 trillion rubles, or 1.8 percent of gross domestic product. The surplus will then probably narrow to 1 percent of GDP in 2020 and 0.6 percent in 2021. The current 2018-2020 budget law envisions a deficit every year.
"The new guidelines for 2019 and 2021 reflect a commitment to fiscal prudence as revenues -- boosted by the VAT hike and the rise in the retirement age - are anticipated to outpace an increase in expenditure," said Piotr Matys, an emerging-markets currency strategist at Rabobank in London. "Maintaining fiscal prudence should attract foreign demand if yields are sufficiently high."
Finance Minister Anton Siluanov also said the government plans to sell $3 billion in new Eurobonds annually in 2020 and 2021. Next year, it's looking to raise $7 billion abroad, of which $4 billion will be used to swap for outstanding securities. State debt as a share of GDP will probably grow to 15 percent in 2019, 16 percent in 2020 and 16.6 percent in 2021.
Infrastructure, Privatization
Part of the reason for an increase in borrowing is to pay for infrastructure, with the government creating a new investment fund of about 3.5 trillion rubles. Meanwhile, the Finance Ministry is looking to raise only negligible amounts from privatization over the next two years.
Under the plan, the bulk of expenditure will go toward defense and national security. Compared to this year, spending in 2019 will decline for health care and a broad category that includes roads and agriculture.
The ruble is projected to average 63.2 against the dollar next year and 63.8 in 2020. It traded little changed at 62.51 versus the U.S. currency as of 3:53 p.m. in Moscow on Tuesday.
The Russian Direct Investment Fund estimates the country needs to spend an extra 2 trillion rubles annually on infrastructure, according to its chief, Kirill Dmitriev. The Kremlin-backed investment vehicle, which partners with global investors on equity deals at home, could raise over 7 trillion rubles in addition to the amount the government plans to allocate in its special fund, he said.
"Now is the time to grow domestic debt and invest in infrastructure and technologies," Dmitriev said. "It's one of the main sources of stimulus for the nation's economic growth."