Sell Equities and Turn to Infrastructure, $41 Billion Fund Says
(Bloomberg) -- A regional airport in the U.K. and an express railway in Sweden are two places a $41 billion Australian pension fund thinks might be safe from the inevitable end to the economic cycle.
Uncertainty on global trade and a sharper than expected slowdown in China has prompted Sunsuper Pty Ltd. to shift more of its money into infrastructure assets, according to chief investment officer Ian Patrick. Meanwhile, the A$55 billion pension manager that counts staff at Australia's central bank and Unilever among clients is paring exposure to listed securities including equities as valuations soar, he said.
"As you get into the late part of the cycle people forget how stretched listed valuations get," Patrick said in a recent interview in Sydney. "Unlisted valuations don't get as stretched so there's relative value there." The peak of the global economic cycle is probably between 12 months and 18 months away, he added.
Sunsuper has been increasing positions in unlisted assets such as infrastructure and private equity, and buying debt in the property sector, according to the CIO. A stake in airports in Bristol and Birmingham in the U.K., and an investment in the train route that serves Stockholm airport, are examples of recent deals, he said.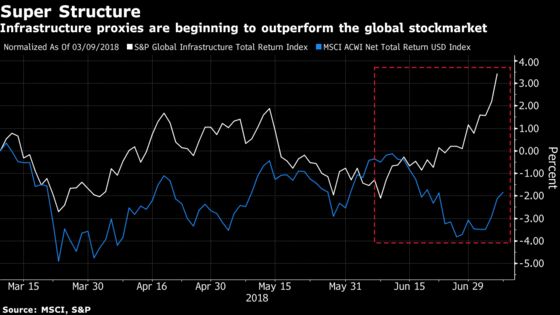 While the pension fund is not "substantially" cutting its exposure to listed assets, they are becoming increasingly expensive in a relative sense, according to Patrick.
Sunsuper joins a number of other asset managers in preparing for an end to the current global economic expansion. The market is in a classic late cycle, with wages rising at full employment, cooling commodities and potential trade wars, David Rosenberg, chief economist and strategist at Gluskin Sheff & Associates Inc. said at a conference last month.
At the crux of the investment decision for Sunsuper is the increasing risk of a hit from restrictions on trade. That risk is heightened by China's already slowing economy that's feeling the pinch from tighter lending conditions, according to Patrick.
"This is a sharper deceleration than we might have anticipated," he said. "There was still some degree of optimism that trade rhetoric was a storm in the teacup three months ago -- it's not a storm in the teacup now."