U.S. Jobs Report Shows Room to Run as Trade War Threatens Gains
(Bloomberg) -- There's still more room to run for America's labor market, just as a trade war threatens the outlook for the world's largest economy.
Job gains of 213,000 in June topped projections, Labor Department figures showed Friday. At the same time, more people entered the labor force to look for work, helping push the unemployment rate up for the first time in almost a year. Wages missed forecasts, with the relatively tepid pace remaining a puzzle for economists.
Altogether, the data depicted a labor market that's not as tight as previously thought, easing any pressure on Federal Reserve policy makers to step up the pace of interest-rate hikes and potentially heartening employers who have had difficulty finding skilled workers.
Yet the monthly figures landed the same day as President Donald Trump intensified a global trade war with U.S. levies on $34 billion of Chinese goods, spurring retaliatory tariffs. That risks weighing on economic growth and the pace of hiring and investment.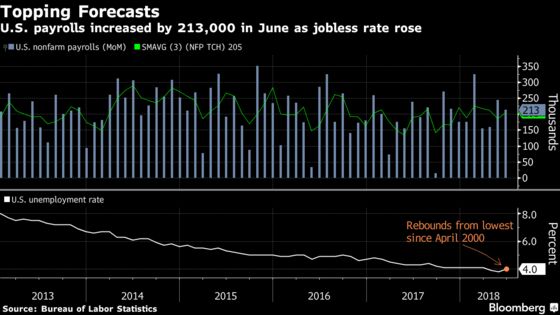 "We may be heading into a trade war but the good news is, the economy at least seems to have some good momentum," said Michael Feroli, chief U.S. economist at JPMorgan Chase & Co. "We still have some capacity to grow above trend without triggering too much inflation worry."
The report showed little, if any, evidence of tariff-related weakness in the economy, especially with continued strength in goods-producing jobs: Manufacturing added 36,000 to payrolls, the best month since December, including a 12,000 increase in the auto industry, the most since August. That's consistent with other reports showing strength in factory activity.
Highlights of Jobs Report (June)
Payrolls rose more than 195k forecast after an upwardly revised 244k advance; revisions added 37k to April-May figures
Unemployment rate rose to 4% (est. 3.8%) from 18-year low of 3.8%
Average hourly earnings gain cooled to 0.2% m/m (est. 0.3% rise); up 2.7% y/y (est. 2.8%)
Hiring and the economy have probably been getting a boost this year from tax cuts that took effect in January, along with a government-spending increase that Trump signed this year. Fed officials last month boosted the number of interest-rate hikes they expect in 2018 to four from three.
"I think that we're seeing the front loading of the fiscal-stimulus impact, which we expected to boost growth this year," Julia Coronado, president of MacroPolicy Perspectives LLC in New York, said on Bloomberg Television. "The impacts of the trade war are going to be more delayed and spread over time."
What Our Economists Say
The overall hiring trend continues to accelerate, which is not surprising given that GDP growth is picking up and labor costs remain tame. More specifically, hiring in the manufacturing sector -- which should be the most sensitive to retaliatory trade sanctions -- is running at the fastest pace since 1998. It may simply be too soon to see tariff impacts; or it is possible that robust economic conditions, which are further bolstered by tax cuts, are simply impervious to the sanctions put in place to date.

-- Carl Riccadonna, Niraj Shah and Tim Mahedy, Bloomberg Economics

Read more for the full reaction note from Bloomberg Economics.
The government's survey of households showed more Americans entered the labor force and most didn't immediately find work, explaining why the jobless rate increased. The participation rate, or share of working-age people in the labor force, increased to 62.9 percent from 62.7 percent the prior month.
"There's definitely still a lot of room for the labor market to absorb the slack," Kevin Hassett, chairman of the White House Council of Economic Advisers, said on Bloomberg Television. The reason for the rise in the unemployment rate was "a stampede of people back into the labor force," he said.
In general, monthly payroll gains of around 100,000 -- or even a bit less -- are sufficient to keep pushing down the unemployment rate, according to economists.
Michael Gapen, chief U.S. economist at Barclays Plc in New York and a former Fed official, said that the boost in workers coming into the labor market bodes well for pushing down the unemployment rate again.
"The story would be a prime working-age woman who's been at home perhaps taking care of children or older adults who now looks out and sees a very good job opportunity and moves right into the ranks of the employed," Gapen said on Bloomberg TV. "There are millions of people in that type of situation."
Despite a relatively tight labor market, wage growth remains stuck in the 2 percent range, with the annual gain of 2.7 percent unchanged from May.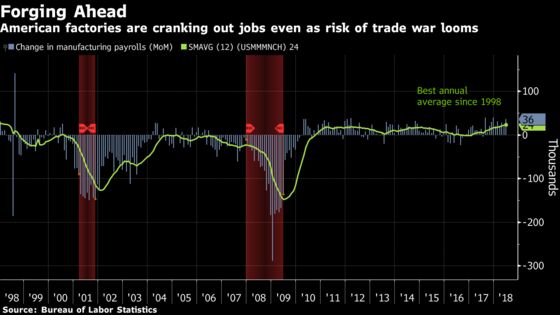 "Overall, this 'not too hot, not too cold' report supports our call for four Fed rate hikes in total this year," Gregory Daco, head of U.S. macroeconomics at Oxford Economics in New York, said in a note.
Daco expects gradually firming wages, steady labor-force participation, falling unemployment persisting into the second half of 2018, and the Fed continuing to raise rates "unless trade policy foils these plans."