Singapore Property Curbs Are a Mallet, Not a Hammer
(Bloomberg Opinion) -- A sledgehammer to swat a fly. That's how OCBC Investment Research is describing the unexpected curbs on Singapore's property market announced late Thursday.
While the imposition of additional buyers' stamp duties and tighter loan-to-value norms on home lending so early in the cycle does indeed smack of overkill (especially after a less than 10 percent recovery in residential prices following a long slide), the logic of the cooling measures may reside in a broader transformation of Singapore's economy.
Developers will shed bitter tears and banks will howl. Let them. Every market in the city-state that was once anti-consumer — telecom, media, taxis, even banking — is becoming a little less so. Property is just the latest shoe to drop.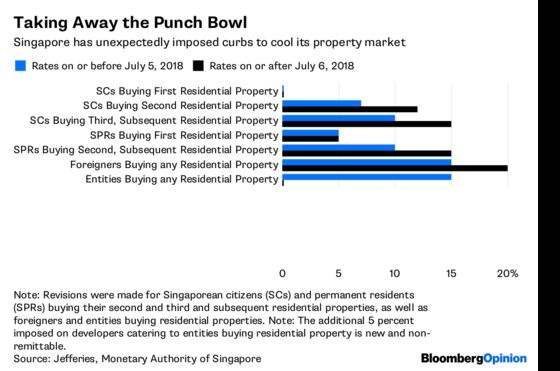 Elsewhere, technology is driving pro-consumer change. To their credit, the Singapore authorities haven't stood in the way of market forces, even though they have a lot at stake in preserving the moats of government-linked and other socially important companies such as Singapore Telecommunications Ltd., StarHub Ltd., ComfortDelGro Corp. and DBS Group Holdings Ltd.
That's only pragmatic. If the idea is to make Singapore a truly innovation-led economy, and reduce its reliance on multinationals whose own fortunes (and location decisions) are whipsawed by the U.S.-China trade conflict, the property market can't be allowed to slip out of reach of the younger Singaporeans who will drive that process.
All a frothy property market does is create wealth for the middle-aged and the retired. It also fuels a mania known in Singapore as en-bloc deals, in which every owner of a condominium takes cash from builders to leave, permitting redevelopment. At $6.4 billion last year, the most since 2007, en-bloc fever is out of control.
In advising investors to curb their enthusiasm for Singapore property in January, I noted that the population is growing at a much slower pace than before. Even wages — deficient across most of the developed world — wouldn't keep pace with a full-fledged upward cycle in prices.
You hear murmurs about jobs globally at risk from automation. But nobody seems to be asking how sky-high urban property prices can be sustained if wages keep being hollowed out.
Hong Kong, which has some of the world's most unaffordable housing, is at least betting on becoming the epicenter of the Beijing-sponsored Greater Bay Area, connecting Macau and Guangdong province. But Singapore? It's just been told by Malaysia's new government that the future of a high-speed rail link with its neighbor is in doubt.
Even as I dream of a loose economic confederation of the two countries, Singapore's government faces the reality of a small city with no early prospect of a friendly hinterland. Given this less-than-cheery prognosis, the move to rein in the property market amid abundant liquidity   looks more like a carpenter's mallet than a blacksmith's hammer.