Participation Rate Emerges as Fed's Big Job-Market Mystery
(Bloomberg) -- America lags other advanced economies in labor force participation, and hiring data are calling into question whether that's a set-in-stone reality or a trend poised to reverse.
The share of the U.S. population that's working or looking for a job peaked around the year 2000. It fell sharply during the 2007-2009 recession, and many economists speculated that the decline would continue for demographic reasons. Instead, the headline participation rate has stabilized and the prime-age rate, representing workers age 25 to 54, has increased.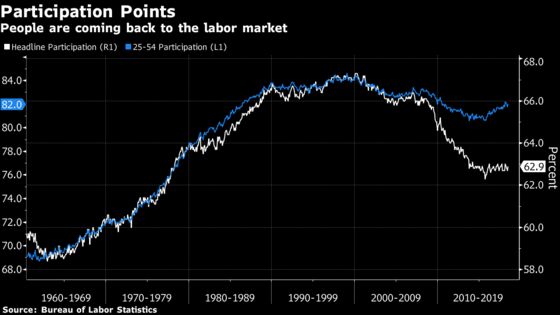 The trend hasn't gone unnoticed. Federal Reserve officials regularly remark on it, and Chairman Jerome Powell said in a speech last month in Portugal that demand for workers should support the participation rate, while noting that the U.S. trails "most other advanced economies" when measured by that metric.
The participation rate is a wild card for the U.S. labor market outlook. Employers could unlock a massive pool of untapped labor if they can pull currently disenfranchised workers back into the game. If that's the case, the job market isn't as tight as the current 4 percent unemployment rate would suggest and today's still-slow wage growth makes more sense.
So how many people are we talking about? According to the Organisation for Economic Co-operation and Development, the headline U.S. participation rate stood at 73.3 percent in 2017. The U.K. -- which has similar tertiary education rates and median population age -- had a rate of 78.5 percent.
Doing a back-of-the envelope calculation, if the headline U.S. figure matched the U.K.'s, 11.4 million more Americans would be working or looking for jobs. That's roughly the population of Belgium.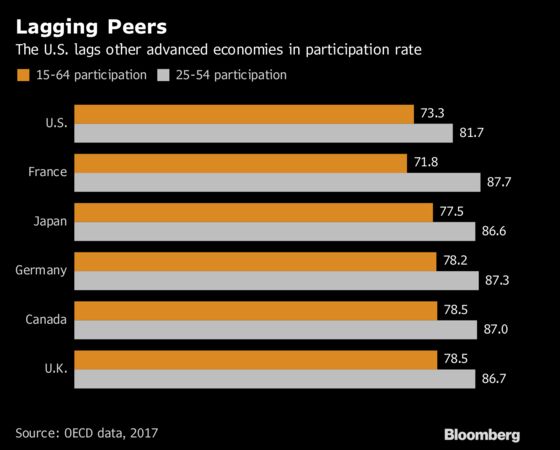 To be sure, advanced economies including the U.S. are aging, which could put pressure on headline participation rates. Workers become more likely to drop out as they grow older. But the U.S. also lags its peers in prime-age participation -- and that's where it's making a real recovery.
Participation among 25- to 54-year-olds in the U.S. ticked up to 82 percent in June, the Bureau of Labor Statistics reported Friday. That increase was driven by women, but both genders have been staging something a comeback since the recession.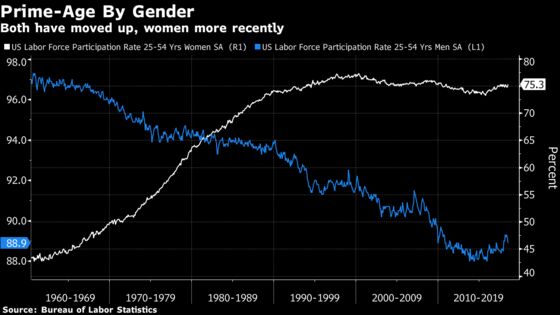 The June pop in participation was sufficient to help drive unemployment higher: The jobless rate rose to 4 percent from 3.8 percent a month earlier. Of the 500,000 newly unemployed people who caused that increase, 204,000 were labor market re-entrants. That's the biggest jump in unemployed re-entrants since May 2014.
"With more slack to work off in the labor market, it may take more time for wages to track higher in earnest, which should keep labor costs and inflationary pressures contained in the near term," economists at Bank of America Corp. wrote in an note following Friday's jobs report. That could matter for the interest-rate setting Federal Open Market Committee.
"It could give the doves on the FOMC more reason to argue for a slower hiking cycle," the economists wrote. "The data today showed that, at the margin, there may be more slack in the labor market than previously seen."