Currencies in Longest Losing Run Since 2015 on Trade: EM Review
(Bloomberg) -- Emerging-market currencies declined for a sixth straight week after the U.S. fired the first shot in a trade dispute between the world's biggest economies. Equities fell for a fourth week.
The MSCI Emerging-Market Currency Index lost 0.1 percent and the gauge tracking the developing-market stocks declined 0.9 percent. The Bloomberg Barclays index of EM local-currency government bonds climbed 0.1 percent.
Highlights for the week ended July 6:
U.S. hiring topped forecasts in June, with nonfarm payrolls climbing 213,000 after an upwardly revised 244,000 advance in May, Labor Department figures showed. The median estimate of analysts surveyed by Bloomberg called for a gain of 195,000 jobs.
U.S. tariffs on $34 billion of Chinese imports took effect; another $16 billion could follow in two weeks, President Donald Trump said, before suggesting the final total could eventually reach $550 billion, a figure that exceeds all of China's annual goods exports to the U.S.

The Trump administration moved against letting China Mobile Ltd. enter the U.S. telecommunications market

China said retaliatory tariffs on U.S. goods are now in effect as U.S. tariffs violate WTO rules
Federal Reserve officials said a "very strong" economy warranted continued increases in the benchmark policy rate while citing the escalating trade war and emerging-market turmoil as risks to growth, according to minutes of the June meeting
China will keep the yuan stable at an equilibrium level and is closely watching recent fluctuation in the foreign-exchange market, said central bank Governor Yi Gang
Turkey's central bank warned of a "marked deterioration" in a key inflation gauge

Core inflation, which excludes volatile items such as food and energy, rose an annual 14.6 percent in June, the highest on record going back to January 2004, while overall consumer inflation accelerated more than expected to 15.4 percent, the highest in almost 15 years. The central bank's target is 5 percent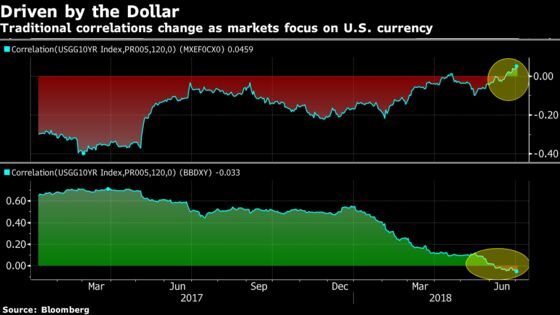 The Chinese yuan trimmed losses amid verbal support from central bank officials, though it still posted a four-week losing streak; the Shanghai Composite Index rebounded Friday from its lowest since 2016

China will try to avoid a "one-size-fits-all" policy as it tries to contain the nation's swelling debt, said Ma Jun, policy adviser to the People's Bank of China
U.S. allows ZTE Corp. to temporarily resume some business activities, while it weighs ending a 7 Client seven-year ban on the Chinese telecommunications company
Growth in China's exports to the U.S. slowed significantly in the first half of 2018, according to official data
U.S. tariffs on $50 billion of Chinese goods to have "limited" impact on the economy, PBOC adviser Ma said
A manufacturing PMI missed estimates, with a gauge of export orders falling into contraction

South Korea's won extended a five-week slide while Kospi index of stocks had its fourth weekly decline, the longest streak since May 2016; exports recorded a surprise drop, falling 0.1 percent in June from a year earlier versus estimates of a 2.2 percent gain

The trade ministry says the nation sees limited near-term impact on exports from U.S. tariffs on Chinese goods, while the finance ministry said the nation doesn't rule out the possibility of potential impact

North Korea continued to develop a key rocket-engine facility in the run-up to Kim Jong Un's summit with U.S. President Donald Trump, according to an independent analysis of satellite imagery

U.S. Secretary of State Mike Pompeo arrived in North Korea on Friday with the daunting task of ensuring that Pyongyang's nuclear commitments line up with Trump's promises

The Indian rupee posted the worst performance among Asian currencies; the nation raised purchase prices for crops such as cotton, soybeans and paddy rice to ensure farmers get at least 50 percent more than their production costs
Thailand's baht hit its weakest level since October; if growth continues and inflation moves more firmly within the 1 percent to 4 percent target, "the need for a policy rate increase in order to build policy space in the future would be increasing," according to minutes of Bank of Thailand's June meeting
The Philippine peso declined; inflation accelerated to 5.2 percent on year in June, the fastest pace in data going back to January 2013, from a 4.6 percent pace in May

Bangko Sentral ng Pilipinas said it is ready to undertake any follow-through action to ensure inflation reverts to 2-4 percent target in 2019

Indonesia's rupiah reached its weakest level since October 2015; Bank Indonesia has spent 59 trillion rupiah ($4.1 billion) on bond market interventions, said Nanang Hendarsah, executive director of monetary management
The Malaysian ringgit was little changed; former Prime Minister Najib Razak has pleaded not guilty to charges of corruption and criminal breach of trust in connection with multi-billion dollar scandal surrounding state fund 1MDB
Taiwan's dollar is likely to weaken toward 31 versus the U.S. currency by the end of the year as stock outflows continue, according to a Bloomberg survey
Sri Lanka kept benchmark rates unchanged to boost growth while it sees inflation stabilizing despite temporary supply side pressures
The Russian ruble dropped the first time in three weeks; the currency is seen averaging 60.8 rubles per dollar in 2018, Economy Ministry said

President Vladimir Putin plans to meet Israeli Prime Minister Benjamin Netanyahu in Russia, Kremlin spokesman Dmitry Peskov said

South Africa's rand halted a five-week losing streak; the nation's central bank confirmed that it had asked the country's credit regulator to look into an allegation made by a short-seller that Capitec Bank Holdings Ltd. continued to use its so-called multi-loan product
Poland's zloty rose against the euro; the European Commission took steps in a possible lawsuit against Poland over its controversial Supreme Court revamp and Poles protested the changes

Polish inflation accelerated for a third straight month

The Hungarian forint rebounded from record low against the euro reached earlier in the week as the nation's central bankers reiterated they won't be able to maintain ultra-loose policy for a prolonged period
Bahrain, whose bonds plunged as investors fretted over whether its Gulf allies will provide an aid package, was said to hire investment bank Lazard Ltd. to advise on how to repair its strained public finances, according to people with knowledge of the matter. The nation is seeking to secure crucial support from rich neighbors to avoid a currency devaluation
Mexico's peso was the best EM performer after the July 1 election, posting its biggest weekly rally since 2011; the nation's likely next Finance Minister Carlos Urzua said he sees Mexico's 2019 inflation between 4 and 5 percent, at odds with the current government's 3 percent preliminary projection

Andres Manuel Lopez Obrador, known as AMLO, is no longer seeking an immediate suspension of Mexico City's new $13 billion airport, according to a member of his economic transition team
AMLO knows the peso vigilantes can sink his agenda and will take a moderate approach when it comes to public spending, according to Alfonso Romo, transition chief for the president-elect
The benchmark Mexbol index rallied about 3 percent, the most in three months

The Brazilian real halted a three-week slide; the central bank reaffirmed it wouldn't use its policy rate to try to curb the real's decline, O Globo reported, citing an interview with BCB governor Ilan Goldfajn

The nation's industry in May recorded its worst performance since December 2008, as a nationwide trucker strike threw supply chains into disarray and forced many producers to halt operations
DataPoder360 election poll shows right-wing lawmaker Jair Bolsonaro ahead in all scenarios for first and second rounds
Brazil's Ibovespa index climbed a second week to one-month high

Argentina's peso jumped more than 3 percent; the nation officially announced the resignations of two central bank directors and the appointment of the institution's new vice president after a leadership shakeup followed a currency crisis last spring, according to a government bulletin
The Colombian peso advanced, posting its best weekly performance in three months; central bank Governor Juan Jose Echavarria said peso strength surprises and sees inflation to end year at about 3.3 percent

Consumer prices rose 3.2 percent on year in June following 3.16 percent gain the previous month
| | | |
| --- | --- | --- |
| Monday, July 9 | Turkey | President Recep Tayyip Erdogan will announce his cabinet after taking oath in parliament |
| | Brazil  | June FGV inflation  |
| | Mexico | June consumer price index |
| | Taiwan | June trade data |
| | Kazakhstan | Monetary policy decision |
| Tuesday, July 10 | China, Hungary | June consumer price index |
| | Russia | 2Q current-account balance |
| | Argentina  | Monetary policy decision |
| | Philippines | May trade data |
| Wednesday, July 11 | Malaysia, Poland | Monetary policy decision |
| | Turkey | May current-account balance |
| Thursday, July 12 | South Korea, Peru | Monetary policy decision |
| | India | June consumer price index, May industrial production |
| | Russia | May trade data |
| | Malaysia, Mexico | May industrial production |
| | South Africa | Manufacturing production  |
| | Brazil | May retail sales |
| Friday, July 13 | China | June trade data |
| | Colombia | Central bank minutes, May retail sales, May industrial production |