BOE Sees Reversal of Decade-Long Slump in U.K. Productivity
(Bloomberg) -- Increasing investment by firms in technology means the U.K.'s abysmal productivity growth should soon start to recover, according to a Bank of England staff blog.
A shortage of skills and labor is acting as a "catalyst" for firms to introduce productivity-boosting technology such as automation, said Will Holman and Tim Pike, who work in the central bank's division monitoring businesses across the country.
But on the day the BOE published the analysis, data showed that a shortage of workers may be pushing up wages even though productivity is still in the doldrums. Productivity increased an annual 0.9 percent in the first quarter, less than half the average rate before the financial crisis. It fell 0.4 percent from the previous three months, figures published by the statistics office show.
At the same time, unit labor costs gained the fastest in four years.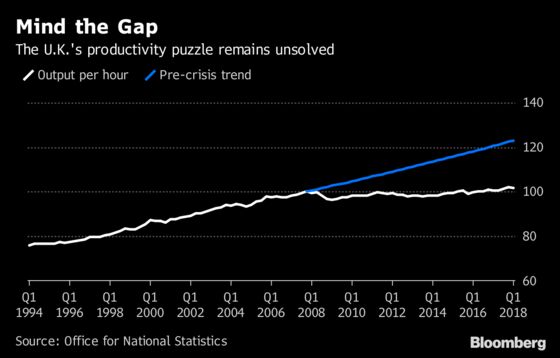 "We detect a change in the mindset of business leaders recently, in favor of capital over labor," they said in a post published Friday. "The fact that examples are becoming more common across sectors suggests that the recent slowdown of labor supply growth may be followed by a sustained productivity recovery."
Packaging and meat-processing companies are investing in robots, the researchers said, while retailers are increasingly using self-service till points and logistics firms are using warehousing automation. Restaurant and bar staff may also be gradually replaced through technology such as self-serving beer pumps, the blog said. Administrative processes including handling invoices are also being automated with cloud-based IT.
Until recently, a high availability of labor meant that firms would choose to hire over business investment, the blog post said. Sluggish wage growth meant those choices were affordable and had little impact on profit margins.
Now, though, companies are reporting recruitment difficulties, especially in "less sought-after jobs" that have typically relied heavily on migrant workers, including those in logistics, hospitality, warehousing, agriculture and food. Those staff shortages are adding to pay pressure, so the incentive for companies to invest in productivity-enhancing machinery is growing.
The report adds to the argument of some economists that Britain's departure from the European Union may, in fact, boost the U.K.'s ailing productivity growth. Migration from the EU has dropped to its lowest since 2012, according to the ONS, and with stricter immigration rules likely on the way, companies could continue to invest in machinery over people as costs associated with each employee increase.
The report authors did, nonetheless, note that it would take some time for the improvements to bear fruit and that there may be an initial dip. "Those employees displaced by automation might be forced into less productive and less well-paid work," they said. "There could be an adverse mix effect on measured U.K. productivity in the short term."
BOE policy makers said in their most recent forecasts that productivity growth will be a bit faster than average in recent years as increases in investment begin to feed through. Still, that pace will be at only half the average pre-crisis rate.
"While technological revolutions ultimately drive great improvements in prosperity, they first involve painful periods of adjustment," BOE Governor Mark Carney said earlier this week. "It takes time for new jobs to be created to replace those made obsolete. It can take more than a generation for new skills to be acquired. And decades can pass before gains in productivity flow through to the wages of all workers."