Trump's Trade War Is Already Hurting U.S. Investment, Fed Says
(Bloomberg) -- America's escalating trade war is already hurting investment and threatens to undermine an otherwise strong business outlook, the Federal Reserve said, citing industry contacts from around the country.
"Many district contacts expressed concern about the possible adverse effects of tariffs and other proposed trade restrictions, both domestically and abroad, on future investment activity," according to minutes released Thursday of the Fed's June 12-13 policy meeting in Washington. "Contacts in some districts indicated that plans for capital spending had been scaled back or postponed as a result of uncertainty over trade policy."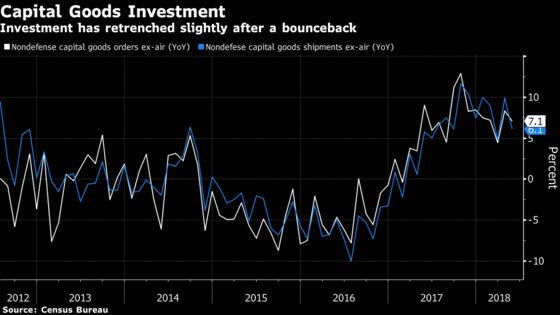 The Trump administration has slapped tariffs on aluminum and steel products and threatened levies on more products from major partners including Mexico, Canada, Europe and China, on whom tariffs on $34 billion of goods are scheduled to go into force early Friday.
Meeting three weeks ago, Fed officials reported that their contacts in the steel and aluminum industries -- both intended to be beneficiaries of the Trump administration's policies -- expected higher prices as a result of the dispute "but had not planned any new investments to increase capacity." Contacts in the agricultural sector voiced worry that their exports could be subject to retaliation, the minutes showed.