$49 Billion Fund Loads Up on Chinese Shares
(Bloomberg) -- A bear market, the yuan's worst month since 1994, and a looming U.S.-China trade war all suggest one thing to John Pearce. Buy Chinese equities.
The selloff in the Shanghai Composite Index, down more than 20 percent from its January high, is overdone, and investors have read too much into the yuan's depreciation, said the chief investment officer of UniSuper Management Pty, which controls A$67 billion ($50 billion) of assets primarily for Australia's higher education and research sector.
"We have used the latest sell-off to build a position in China A shares," Pearce said in an interview. "It's all on the back of tightening U.S. dollar liquidity and fears of a trade war but we it looks overdone to us."
Pearce has hired BlackRock Inc. to manage some of its China equity book, while the remainder will be done by the UniSuper team of fund managers, he said, declining to give details on the allocation.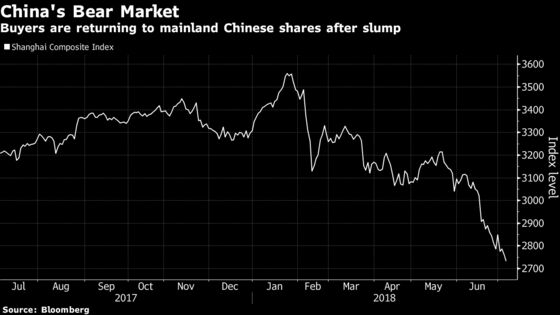 Skittish investors have dumped Chinese stocks in recent weeks amid concerns on growth after a string of weaker economic data and escalating trade tensions with the Trump administration. U.S. tariffs on $34 billion of Chinese imports took effect on Friday, while China has vowed to retaliate. The People's Bank of China sought to shore up confidence in financial markets this week after the recent weakness in the yuan, pledging to keep the currency stable.
"The PBOC has confirmed that this doesn't represent a change in policy," said Pearce. "Everyone looks at the yuan-dollar exchange rate when the Chinese have consistently said we're looking at the basket not just yuan-dollar."
The yuan fell more than 3 percent against the greenback in June, the worst monthly decline since 1994 when the Chinese government unified the official and market exchange rates. It's down about 2 percent for the year against the dollar, while stronger versus other currencies including the euro, the Canadian and Australian dollars.
The Australian pension is not the only investor taking advantage of the slump in Chinese shares. Chinese hedge fund Shanghai Chongyang Investment Management Co. is is adding shares of thermal power and electrical equipment firms, consumer and financial companies as well as dividend plays, according to its president Wang Qing.
"People are just getting a bit too carried away by it all," Pearce said. "If you look at the history of any major stock-market – and China is a massive market – if you had blindly just bought the market after a 20 percent selloff, more often than not you've made money in 12 months time."
The Shanghai Composite has had some wild swings over the years. A 45 percent selloff that started in June 2015 and accelerated as China devalued the yuan was then followed by a near 30 percent advance as the government curbed capital outflows - all in about five months. The benchmark rose 0.5 percent Friday.
UniSuper, whose fund members include current and former Australian university staff, has also tasked BlackRock to invest in emerging-market investment-grade corporate bonds. "If you look at credit spreads and how much they've widened, to us the corporates are in pretty good shape," Pearce said.
The fund's balanced investment option returned 10.4 percent for the year to June, according to Pearce.