Biggest Buyers of India Bonds Show Tentative Signs of Return
(Bloomberg) -- The tide may be turning for Indian sovereign bonds as the relentless selling from government-owned banks over the past year is showing signs of easing.
State lenders, the largest holders of debt, have been net buyers in seven of the past eight sessions through July 3 for the first time since Nov 2017. They've added bonds worth 75.91 billion rupees ($1.1 billion) in this period, data from the Clearing Corp. of India Ltd. show.
Bonds due in 2022 and 2035 auctioned last Friday were lapped up by single bids, while all of the benchmark 2028 debt was cleared by three buyers, indicating strong demand. The question now is whether the revival will be sustained to lift the market from its deepest slump in two decades.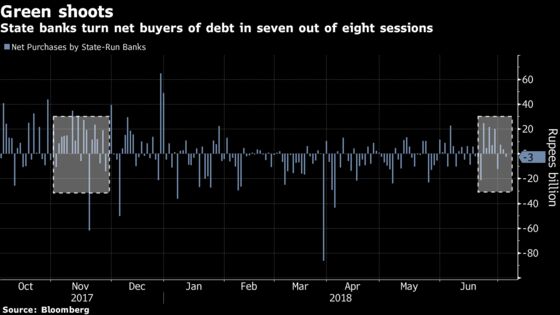 "Net purchases will be higher going forward, part of it through auctions and part of it via the secondary market," said Badrish Kulhalli, head of fixed income at HDFC Standard Life Insurance Co. "Banks tend to book profits on their bond holdings in the first quarter. With that behind us, the pressure to sell will be lower."
State lenders probably held 300 billion rupees of losses on bond holdings in the six months ended March amid an incessant increase in benchmark yields, according to India Ratings & Research, the local unit of Fitch Group. The red ink was so deep that RBI allowed banks to spread it out over time. The regulator has also allowed the June-quarter losses to be spread over four quarters.
Bonds got another reprieve Wednesday when Prime Minister Narendra Modi announced farm support prices which were largely in line with market expectations. There were concerns earlier that higher subsidies could stoke inflation and also spur the government to sell more debt to fund the payments.
"Its unlikely that the Reserve Bank of India acts immediately based on this -- they might want to see the actual impact on CPI due to the hikes," said Kuldeepsinh Jagtap, executive vice president at ICICI Securities Primary Dealership Ltd. in Mumbai, who expects a headline inflation impact of around 60 basis points.