Stocks Rise, Bonds Fall as Tariffs, Jobs Data Loom: Markets Wrap
(Bloomberg) -- U.S. stocks returned from a holiday break with a strong advance led by technology shares, even as markets prepared Friday's jobs report and the implementation of fresh tariffs between America and China. The dollar slumped.
All major equity benchmarks in the U.S. advanced, with the Nasdaq indexes climbing more than 1 percent on strength in chipmakers. European automakers drove the continent's stock markets higher on hopes of a trans-Atlantic tariff agreement. Asian shares earlier sank to a nine-month low as trade fears increased. Trading was quiet during the U.S. holiday week, with turnover on the S&P 500 and Nasdaq 100 more than 20 percent below normal.
Investors also assessed minutes from the most recent Federal Reserve meeting where officials affirmed the need for gradual interest rate hikes amid increasing trade risks. And while the jobs report Friday is expected to show continued strength in the American labor market, the midnight deadline for tariffs is fast approaching.
"The risks are increasing, it's becoming a bit of a bumpier ride, and I think there probably is some nervousness," said James McCann, global economist at Aberdeen Standard Investments. "Tightening policy alongside building risks is a more difficult cocktail for them."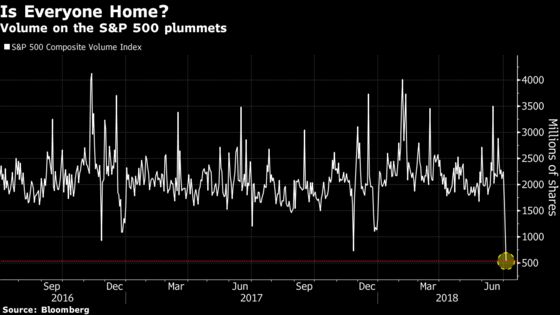 The dollar fell as jobless data disappointed, and Treasuries were stable. The yuan declined. Commodities slid and those with heavy exposure to international trade were particularly pressured, with iron ore futures in Singapore hitting a seven month low. Oil slumped as inventories unexpectedly rose.
"A pretty quiet day today as a lot of people are still on vacation," Matt Maley, an equity strategist at Miller Tabak & Co., wrote in an email to clients. "Those who are at their posts will be waiting to see tomorrow's employment report and the reaction to the tariffs that will go into effect tomorrow as well."
The trade conflict is poised to enter a new phase on Friday with the imposition of fresh tariffs between the world's two biggest economies. China said it won't be the first to act and will hold off on enforcement until the U.S. does. Investors are also preparing for the release of Federal Reserve minutes later Thursday and American jobs data on Friday.
The euro strengthened and sovereign bonds fell as investors repriced the trajectory of ECB rate increases and after data showed German factory orders surged in May. The pound climbed on hawkish comments from Bank of England Governor Mark Carney.
Elsewhere, emerging-market shares slipped for the eighth time in nine days, and developing-nation currencies held steady.
Terminal users can read more in Bloomberg's Markets Live blog.
These are key events coming up this week:
U.S. payrolls are due Friday.
Also on Friday, the U.S. is scheduled to impose tariffs on $34 billion of Chinese goods. Beijing has said it will slap tariffs on an equal value on U.S. exports including agricultural and auto exports.
Here are the main market moves:
The S&P 500 Index rose 0.9 percent to 2,736.61, while the Nasdaq 100 Index climbed 1.2 percent.
The Stoxx Europe 600 Index gained 0.4 percent to the highest in almost two weeks.
The MSCI All-Country World Index increased 0.6 percent.
The MSCI Emerging Market Index fell 0.1 percent.
The MSCI Asia Pacific Index dipped 0.5 percent to the lowest since October.
The Bloomberg Dollar Spot Index dropped 0.2 percent to the lowest in more than three weeks.
The euro added 0.3 percent to $1.1691.
The British pound fell 0.1 percent to $1.3221.
The Japanese yen declined 0.1 percent to 110.64 per dollar.
The yield on 10-year Treasuries rose less than a basis point to 2.8345 percent.
Germany's 10-year yield dipped one basis point to 0.299 percent.
Britain's 10-year yield fell two basis points to 1.258 percent.
The Bloomberg Commodity Index dropped 0.5 percent.
WTI crude slipped 1.6 percent to $72.99 a barrel.
Gold increased 0.1 percent to $1,256.74 an ounce.