Turk Inflation Accelerates Beyond Forecasts to 15-Year High
(Bloomberg) -- Turkey's consumer inflation accelerated more than expected to the highest level in nearly 15 years, heaping pressure on the central bank to raise borrowing costs and further weakening the embattled lira.
The annual inflation rate rose to 15.4 percent in June from 12.2 percent the previous month as the lira's unabated slide against the dollar fueled price increases. The reading exceeded the median estimate of 13.9 percent in a Bloomberg survey and was the highest since October 2003. The state statistics office said Tuesday that monthly inflation was 2.6 percent, compared with 1.3 percent forecast in a separate survey.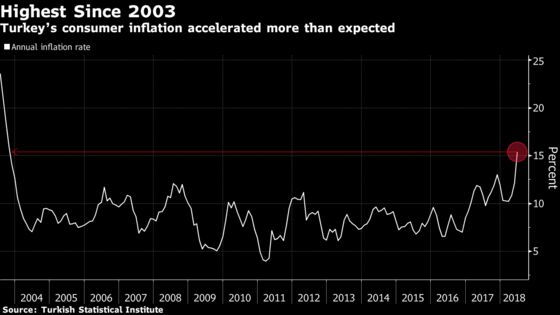 "These are truly awful numbers, which came in much higher than anyone expected. The inflation genie has escaped in Turkey and is running wild!," Nigel Rendell, a senior analyst at Medley Global Advisors, said by email. "This piles huge pressure on the central bank to raise rates again -- and to hike significantly at their July 24 meeting -- if they want to reverse this trend. "
If policy makers react with only half-hearted measures, President Recep Tayyip Erdogan's new term in office "will quickly morph into a financial crisis," Rendell added.
Consumer inflation started accelerating in the second quarter, but Erdogan, who capped a string of unbroken electoral wins with his June 24 re-election, holds the unorthodox view that higher borrowing costs fuel inflation and wants interest rates to come down.
Deputy Prime Minister Mehmet Simsek said on Twitter that the new government would strengthen its policy tools and prioritize structural reforms. In the medium term, "problems like inflation and the current account deficit will be fundamentally solved," he said.
The lira was trading down 1.2 percent after the inflation report at 4.6736 per dollar at 5:56 p.m. in Istanbul. Non-financial companies' heavy debt burden leaves them especially vulnerable to sharp spikes in the lira, which lost nearly two-thirds of its value in the last five years.
Below are some of the highlights from Tuesday's inflation report:
The energy index, which tracks the price of power and refined oil products, rose 17 percent from the previous year, compared with 15.2 percent in May
Core inflation, which excludes volatile items such as gold and energy, accelerated to 14.6 percent, extending its record streak, according to Turkstat data going back to 2004
Food prices, which make up nearly a quarter of the consumer inflation basket, rose an annual 18.9 percent, up from 11 percent