China-Targeted Tariffs Set to Strike South Korea's Export Engine
(Bloomberg) -- China may be the world's factory floor, but South Korea is the top supplier of the semiconductors that go into our laptops and cars and whatever else needs one. Now, the link between them is set to cause South Korea some pain.
A global boom in demand for semiconductors has driven recent growth in Asia's exports. But the chip sector's outsize role in South Korea's exports and economic growth can cut both ways, leaving the country among the most exposed to U.S. tariffs on Chinese imports.
The impact could start to be felt soon, with the first U.S. tariffs on China due to take effect on Friday. South Korea's biggest export market is China, and more than a quarter of the goods it ships there are semiconductors, which are destined for assembly in other products, including many headed to the U.S.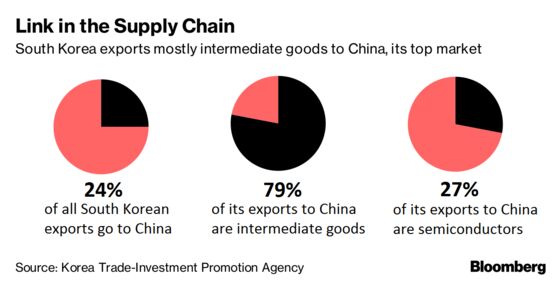 That's bad news for South Korea. Exports accounted for about 43 percent of gross domestic product last year, according to a Bank of Korea estimate.
In a report last week, Goldman Sachs noted that the nation's two dominant chip producers -- Samsung Electronics Co. and SK Hynix Inc. -- are expected to contribute about 70 percent of earnings growth on the MSCI Korea index this year.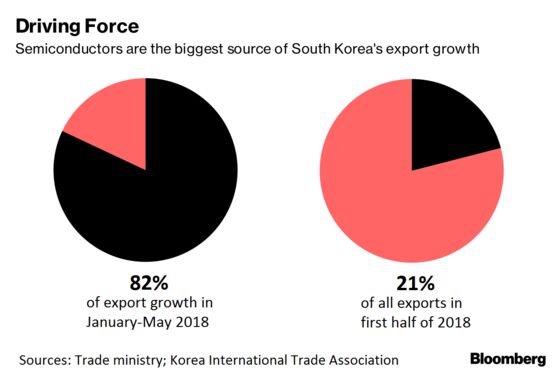 Research from the Peterson Institute for International Economics and Syracuse University suggests the U.S. tariffs on China announced last month will hurt non-Chinese companies more than Chinese firms.
That includes Korean companies. Their parts end up in myriad goods assembled by global companies with factories in China that export to the U.S.