Commodity Powerhouse Warns of Risks to Growth From Trade War
(Bloomberg) -- Commodity powerhouse Australia delivered a double-barreled warning that rising trade protectionism will hurt global growth, adding its voice to a chorus of alarm just days before the U.S. and China slap duties on each other, risking a spiral of tit-for-tat tariffs.
"Trade tensions between the U.S. and its major trading partners have the potential to undermine confidence and hinder global economic output," Australia's Department of Industry, Innovation & Science said in a report on Monday. Hours later, that was followed by a blunt message from Trade Minister Steven Ciobo: "Escalating trade tensions, potentially, will harm global growth: of course there's a correlation between global growth and trade volumes."
Australia is the largest shipper of iron ore, a major supplier of coal and natural gas, as well as other raw materials including copper and gold, and its economic fortunes are linked to commodity demand, especially in China. Since taking office, U.S. President Donald Trump has sought to refashion the global trade order claiming it's unfair and imposing tariffs on steel and aluminum. On Friday, a wave of American tariffs on billions of dollars of Chinese imports is due to take effect, with Beijing set to impose retaliatory levies.
While conditions are expected to remain firm, risks to the outlook seem skewed to the downside, the department said in a resources quarterly. Along with protectionism, it also highlighted Middle East tensions, and vulnerabilities in countries such as Argentina, which "have potential to hurt global growth."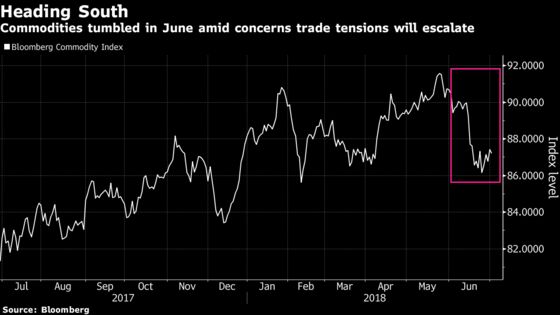 There've been a battery of warnings from governments as well as banks about the potential consequences from a full-blown trade war, including for raw materials. Last week, Morgan Stanley said that the escalating trade tensions "bring a risk of demand destruction across commodity markets." Industries from automobiles to brewing are bracing themselves for the fallout from the worsening trade tensions.
Commodities fell on Monday, along with global equities. Among decliners, copper lost as much as 1.2 percent to $6,550 a metric ton on the London Metal Exchange as all six main base metals lost ground. On energy markets, Brent crude sank 1.1 percent. Iron ore -- one of Australia's top exports -- retreated.
Trade Minister Ciobo, in remarks to reporters and businesses in Tokyo after a speech, urged Trump as well as others to keep their actions within the World Trade Organization framework. "We would look for opportunities to encourage the U.S. to act in a WTO-consistent way," he said, adding: "The same could also be said with respect to retaliatory actions that are taken."
In a sign the impending trade war is already hurting, China's purchasing manager index readings for June showed a gauge of export orders tumbling into contraction. Last month, the Bloomberg Commodity Index fell by the biggest loss in almost two years.
The rise in trade barriers spreads beyond the U.S. and China, the world's largest economies. Canada and the European Union have introduced charges on some U.S. goods to respond to levies imposed by Washington.
As concerns rose last month, Goldman Sachs Group Inc. Chief Economist Jan Hatzius said tensions are likely to intensify. And Federal Reserve Chairman Jerome Powell said that U.S. companies are becoming so anxious about the prospect of a trade war, they're postponing investment and hiring decisions.