More Americans Used Subsidies to Buy Obamacare Plans Than in '14
(Bloomberg) -- The share of people who got government assistance to buy private health-insurance coverage has been rising since the start of Obamacare, according to a report released Monday.
More than 8 million people in the U.S. got subsidies to help them afford Obamacare plans last year, while 5 million bought plans without help. The report from the U.S. Centers for Medicare and Medicaid Services counts people who buy coverage on state- and federal-run markets, as well as people who buy some individual plans outside of the program.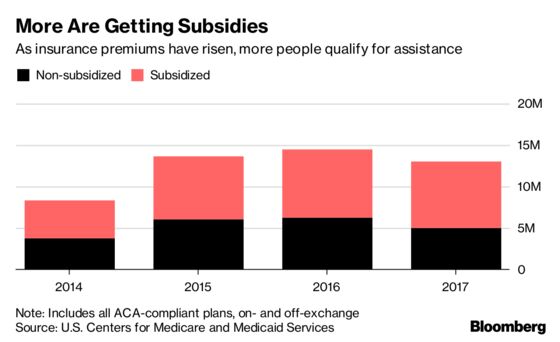 The share of people getting assistance has been rising from 2014, the first year of coverage under the Affordable Care Act, when 55 percent of people got help. In 2017, 62 percent of people got assistance.
Rising premiums have made health insurance unaffordable for some people who don't get subsidies, causing them to drop coverage or turn elsewhere. In 2017, the average individual premium was $470.52 a month. That's risen to $597.20, as of February 2018, according to another report from the agency.