JPMorgan Asset Sees 'Lot of Value' in Emerging Markets
(Bloomberg) -- The selloff in emerging markets amid heightened concern over a global trade war created "a lot of value," according to JPMorgan Asset Management.
Emerging-market stocks and currencies dropped the most since 2015 in the three months through June, and a Bloomberg Barclays index of local-currency bonds posted its first quarterly retreat since 2016. Both the equity and currency gauges extended their declines on Monday, with the latter heading for its lowest since August.
There's "huge amount of valuation" created after recent selloff, especially local markets that have suffered amid trade concerns, Diana Amoa, an emerging-market money manager at JPMorgan Asset Management, said on Bloomberg TV.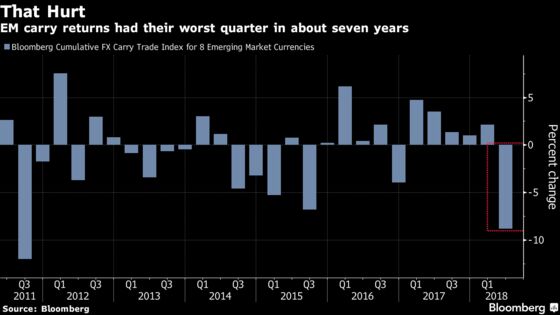 Investors are grappling with fears of increasing global protectionism, European political risks and diverging monetary policies around the world. In China, the economy is already showing signs of vulnerability to a U.S. trade war before new taxes are levied at the end of this week, with weaker-than-expected manufacturing data for June adding to the list of concerns.
Amoa says she favors some European high-yield debt and high-yield corporate bonds in developing nations. She also says the dollar strength less risky if it's due to U.S. economy performing well.
It's "very, very normal" to see U.S. yield curve flattening at this stage, she says.