Italy Unemployment Rate Falls in Boost for Populist Leaders
(Bloomberg) -- Italy's jobless rate fell to the lowest in almost six years, boosting the country's month-old populist government.
Unemployment dropped in May to 10.7 percent from a revised 11 percent the month before, Rome-based national statistics office Istat said in a preliminary report on Monday. The rate was well below the 11.1 percent median of 10 estimates in a Bloomberg News survey.
Prime Minister Giuseppe Conte's government was sworn in to office on June 1, with a promise to improve economic growth through more domestic demand and the creation of favorable conditions for exports.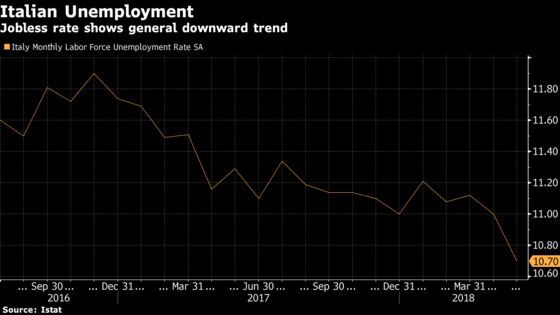 Italy's unemployment rate remains far above the rate of 8.5 percent for the euro area as a whole in April. The May figure is due for release at 11 a.m. in Luxembourg.
"Less work and less income have led in the last decade to a strong increase in poverty, despite recent employment improvements," the Italian employers' association Confindustria said last week.
Italy's economic recovery accelerated in 2017 when the gross domestic product expanded 1.5 percent or the most since 2010. The euro region's third-biggest economy is forecast to grow at the same pace this year.
The May unemployment rate was the lowest since August 2012, when it was also 10.7 percent. Istat initially reported an unemployment rate of 11.2 percent in April.
Youth unemployment fell to 31.9 percent in May from 32.8 percent the month before.