Here's a Rule to Help Powell Manage the Fed's Uncertainty Problem
(Bloomberg) -- Federal Reserve Chairman Jerome Powell hasn't been shy about drawing attention to the limits of the central bank's knowledge.
In a June 13 press conference he was remarkably frank in doubting the Fed's ability to answer the most important conceptual questions in monetary policy: At what level would interest rates have a neutral impact on the economy, and how low can unemployment fall before it begins to provoke problematic inflation?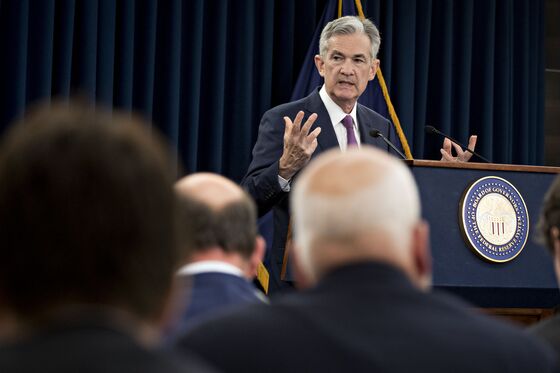 "We can't be too attached to these unobserved variables," said Powell, who took the Fed's helm in February. "You shouldn't try to speak about it with a lot of precision or confidence," he added. "We're estimating these things."
The real emphasis, he said, should be on monitoring changes in the hard data.
That may be refreshing for Fed watchers weary of theoretical economic models. The new chairman's "plain-English" approach and his humility in the face of uncertainty is proving popular among those working in financial markets. But it doesn't say much about what the Fed will do when the data arrives.
Estimates about the neutral interest rate and the so-called natural level of unemployment, however flawed, are useful because they provide guideposts for policy. And when Fed officials make their estimates public, they lend predictability to how they will react when the economy changes.
If only there were a guide for setting rates that accommodates Powell's uneasiness with "unobserved variables" and his preference for hard data. As it happens, there is just such a road map, and one of Powell's most senior colleagues, New York Fed President John Williams, helped draw it up.
In 2002 when Williams was an economist at the San Francisco Fed, he co-authored a paper confronting the unreliability of estimating the neutral rate of interest and the natural rate of unemployment, and the problem that presented in setting interest rates.
The solution they offered was something called the "first-difference" rule.
There are many monetary policy rules that will recommend a level of rates for different economic conditions. The Fed doesn't strictly follow any of them, but consults several. The first-difference rule is distinct for not relying on any of the unobserved variables that vex Powell, making it, as Williams and Athanasios Orphanides wrote, "immune to likely misperceptions in these concepts."
Instead, it counsels policy makers -- in the form of a simple formula -- to respond to actual changes in unemployment and inflation, thus fitting snugly with Powell's description of how he believes the Fed should proceed.
Taking the crudest version of the rule and plugging in median forecasts from Fed officials for unemployment and inflation at the end of 2019 and 2020, the first difference rule would prescribe a federal funds rate of 2.3 percent for both points in time. That's just two hikes higher than where the rate is now and well below the 3.1 percent and 3.4 percent projected by those same officials.
Matthew Luzzetti, a senior economist at Deutsche Bank, who wrote about the first-difference rule in a recent note to clients, argued for caution. Powell's views do appear to align with Williams' paper, and Williams is clearly an influential figure inside the Fed. But neither Powell nor Williams is going to follow any policy rule mechanically, he said.
Moreover, there are different versions of the rule. A more complex one that appears in the Fed's semi-annual report to Congress puts the rate much closer to the Fed's projections, according to Luzzetti.
"The Fed is likely to look at these rules as a guide," he said, "but I don't think you can really infer what the reaction of the Fed will be."