AMLO and Behold, Uncertainty Takes Equities Lower: Taking Stock
(Bloomberg) -- S&P futures were swiftly down nearly 17 handles Monday, following the rest of world into the red in the kick-off to the second half of 2018, as political uncertainty dominates headlines from Europe to Mexico.
Andres Manuel Lopez Obrador (AMLO) won early concessions from his political opponents in Mexico's national election, boosting the unknowns (watch shares of AMX, FMX and the Mexico ETF EWW in today's trade) on how his government will handle key issues such as NAFTA, given his populist stance. German Chancellor Merkel also faces uncertainty as she struggles to keep her ruling coalition intact.
China's PMI data failed to deliver any sweeping change in the trade narrative, as the Shanghai composite resumed its descent after a brief respite Friday, which some analysts described as technical in nature. The iShares China Large-Cap ETF is down 2.4 percent pre-market.
Screens are dominated by red, with few exceptions. Facebook's data sharing was under further scrutiny this weekend after reports that it provided special access to user data to more than 60 app developers -- re-opening wounds from the Cambridge Analytica scandal earlier this year. And despite WTI crude closing at near 5 year highs Friday, energy names face an interesting proposition today following the communication confusion between the White House and Saudi Arabian officials over the weekend that appeared to indicate the middle eastern oil producer would boost production by 2 million barrels. Crude opened lower but has pared much of its earlier losses after a series of clarifying remarks from the White House and Saudi Arabia. S&P 500 energy index sits about 20 points below the year's highs.
VMware got a boost early when Dell Technologies confirmed weekend reports that it would offer to buy out the tracking stock DVMT, thereby giving it more control over the virtualization company. DVMT shares are higher by 12 percent, VMware by 14 percent. In other deals-related developments, Archer-Daniels-Midland Co. agreed to acquire animal nutrition co. Neovia for $1.8 billion, in an all-cash transaction.
The holiday week for both Canada and the U.S. brings a dearth of equity-specific catalysts, save Tesla and its auto cohorts. Tesla's official quarterly deliveries figures are due as early as today, though the Model 3 production rate milestone reported Sunday provides a backstop for shares should deliveries surprise (see preview). Shares are up more than 6 percent pre-market.
Automakers GM, Ford, Toyota and Honda may see volatility Tuesday as June auto sales are released during the shortened trading day. Data may provide a much needed boost for suppliers, as the Russell 3000 auto parts index has suffered of late, down more than 6.5 percent in the latter half of June alone. The auto sector has been a centerpiece of the trade narrative, with the EU just this weekend quantifying up to $294 billion in U.S. exports that could be subject to retaliatory countermeasures, assuming the administration pushes ahead with its proposed tariffs on the segment.
Otherwise, it's a macro-focused week, but mostly after the fireworks. ADP employment figures for June are due Thursday, a sneak peak into the employment picture that we'll receive Friday with non-farm payrolls. The tea leaves from that data and the FOMC's minutes Thursday will be studied for any indication that trade rhetoric has made its way through to real employment and whether there will be any labor-induced inflation coming down the pike. It's a key concern for those defensive sector and rate-sensitive investors who have benefited in recent weeks from a falling 10- year treasury yield.
First Half Is Done. Now What?
For the bounty of cautionary thematic developments last week, be it the bleeding banking stocks, a tech/FAANG/momentum stall out, a flurry of trade-related whipsaw headlines, the Chinese bear market, Harley-Davidson adding fuel to "real world" tariff impacts and a WTO withdrawal scare, it was only the sixth-worst performing week for the S&P 500 all year. So it could have been worse. Yes, it brought the S&P 500 close to flat on the year excluding dividends, surely frustrating fund performance (assuming incremental profits weren't booked ahead of the last hour of trade Friday where the S&P dumped 20 points), but there is hope.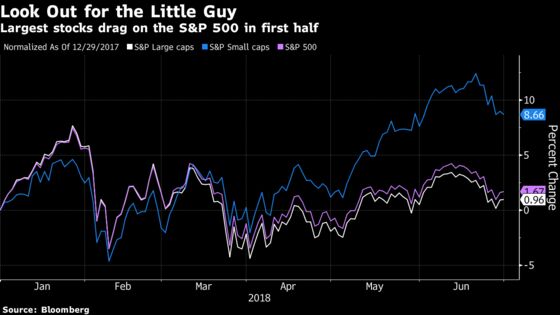 As a colleague pointed out Friday, analysts are undeterred. The mean forecast of analysts tracked by Bloomberg for the S&P 500 at 2018 sits at 2,944 -- 8 percent above the Friday close. That annualized pace would exceed the 5-year annualized return in the S&P 500 index (which includes dividends) of 13.2 percent. And just looking back over the past 5 years during the July 4th holiday week, bulls are clearly a patriotic bunch: just one of the weeks recorded a loss, while the largest gain reached 1.28 percent. But if this year is any guide, there is no guide--especially with volumes and attendance likely light and trading potentially whippy.
The new competitive threat from Amazon makes it unlikely Walgreens Boots can outperform, Mizuho analysts wrote in an earlier downgrade to neutral from buy. There is a "lack of a clear strategy" on how to handle consolidation in the industry, and despite its valuation, there is not much upside in the near-term given their lack of revenue diversification.
The selloff in Constellation Brands Friday post-results prompted a Morgan Stanley defense Monday, writing that the market has not "appropriately" discounting its long term prospects. The stock reaction was "fair," analysts wrote, given the margin shortfall, but ultimately the long term beer revenue growth potential keeps Morgan Stanley at the equivalent of a buy rating.
Tick-by-Tick Guide to Today's Actionable Events
Today -- Autoliv's Veoneer regular-way trading to start on NYSE (symbol VNE)
Today -- IPO lockup expiry: CUE
9:45am -- Markit Manufacturing PMI
10:00am -- ISM Manufacturing, Construction Spending
10:00am -- World Cup: Brazil vs Mexico
2:00pm -- World Cup: Belgium vs Japan
4:05pm -- MLHR earnings