Brexit Just Won't Let Go of the Pound
(Bloomberg) -- Brexit's grasp on the pound is unyielding.
Any pick up in U.K. services data on July 4, following stronger-than-expected growth figures on Friday, could give the currency a boost by lifting bets on an August rate hike. Yet with Prime Minister Theresa May meeting Angela Merkel on July 5, followed by the U.K. cabinet sitting down a day later to hash out details on the future relationship with the European Union, Brexit news is always around the corner for the pound.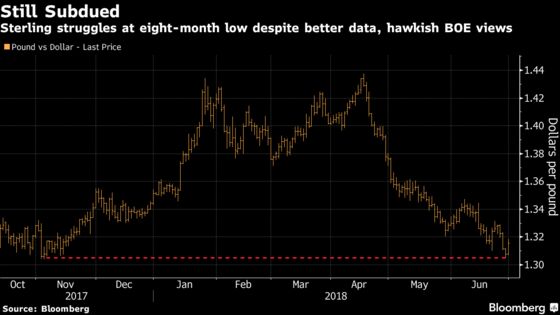 "Data will continue to be crucial as a short-term driver for sterling," said Viraj Patel, a strategist at ING Groep NV. While a rally back to $1.40 is still possible this year, that's "more of a post-summer surge and assumes a benign Brexit outcome."
The pound weakened below $1.32 on Monday after surging unexpectedly on Friday on higher U.K. growth numbers and hawkish comments from the Bank of England's Chief Economist Andy Haldane.
The British currency still saw its worst quarter since the Brexit referendum in June 2016. Part of it was to do with dollar strength, but domestic political wrangling, businesses growing gloomy and the bitter battle with the EU weighed on the pound. The EU's chief Brexit negotiator Michel Barnier said on Friday time was running out with "huge and serious" gaps still remaining, while European Council President Donald Tusk made a "last call" for progress.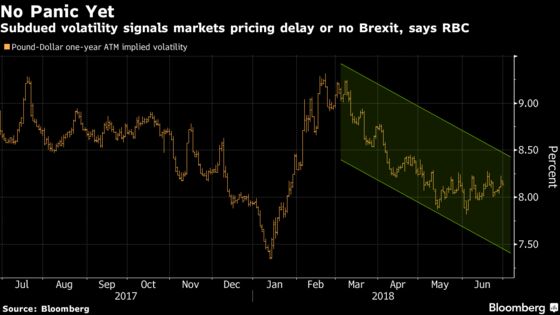 Even with these risks, volatility in sterling has remained subdued. One-year implied volatility for sterling-dollar was at around 8.2 percent on Monday, compared to the annual average of 8.5 percent and well-below the year's high of 9.3 percent.
The low volatility seems "hard to reconcile" given the wide range of possible Brexit outcomes, said Adam Cole, chief currency strategist at RBC Europe Ltd.
"As best we can tell, and supported by anecdotal evidence, markets appear to attach a surprisingly high probability to the whole Brexit process being delayed or even never happening," London-based Cole said. Given this view, "it is not difficult to make a case for risk in sterling being under-priced, and that is indeed our bias."