Trade Wars Bite as Emerging Currencies Decline to 10-Month Low
(Bloomberg) -- With a trade kerfuffle bruising investors, assets across emerging markets started the week with more declines.
Mexico's peso reversed early gains to weaken 1.1 percent against the dollar by 3:11 p.m. in London after 64-year-old leftist Andres Manuel Lopez Obrador's landslide election victory, according to the earliest figures announced by officials. The zloty, rand, lira and yuan also fell as the Bloomberg Dollar Spot Index rose 0.6 percent.
Click here to see the assets that may move on election night in Mexico
Attention will then turn to U.S. jobs data and the Federal Reserve minutes on Thursday, as well as unemployment data on Friday as investors gauge whether trade friction has impacted the nation's economic outlook. A U.S. deadline for $34 billion in tariffs on China is also due Friday. The Asian country has pledged to retaliate if President Donald Trump follows through.
What you Need to Know About Emerging Markets This Week: Audio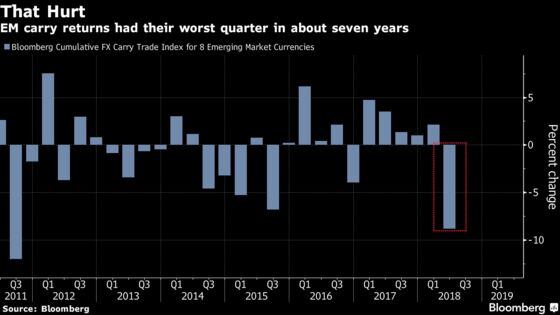 "Things have got to get worse before they get better -- that's the disturbing situation," Claudio Piron, co-head of Asian currency and rates strategy at Bank of America Merrill Lynch in Singapore, told Bloomberg TV's Haidi Lun and Rishaad Salamat.
This week will be highly critical with election results in Mexico "and how that will have a bearing on Nafta," Piron said. The deadline for tariffs is "going to be key" in determining how much worse the situation will get "before things can possibly get better," he said.
The war of words between the world's biggest economies over commerce added fuel to a sell-off sparked by a rising dollar and hawkish central banks in developed economies. It sent a Bloomberg currency index that measures carry-trade returns from eight emerging markets, funded by short positions in the dollar, tumbling the most on a quarterly basis since 2011.
Emerging-market stocks and currencies dropped the most since 2015 in the three months through June, and a Bloomberg Barclays index of local-currency bonds posted its first quarterly retreat since 2016. Both the equity and currency gauges extended their declines on Monday, with the latter heading for its lowest since August.
"The practical impact of the trade wars is small thus far and is beneficial to many emerging-market credits, for example oil and metals companies, but the bearish impact on sentiment and possibility of a downward spiral overwhelms this," said Richard Segal, a senior analyst at Manulife Asset Management Ltd. in London.
"It's advisable to remain cautious for a while, and better buying opportunities will appear later in the summer," he said.
The escalating trade tensions have already seen the yuan, which has been an anchor of stability during the emerging-market sell-off in recent months, weaken to its lowest since August. Trade frictions and concerns about whether the economy is slowing down further have sent Chinese stocks into a bear market
The Shanghai Stock Exchange Composite Index dropped 2.5% by close to its lowest since March 2016
A private measure for June of China's manufacturing activity from Caixin Media and Markit Economics slightly undershot expectations at 51 versus a 51.1 median estimate in a Bloomberg survey of analysts
Traders will also be looking at the strength of Lopez Obrador's party in Congress
Wells Fargo said the peso could climb back to 19 per dollar if the Morena party fails to secure a majority, or weaken to 21 if it wins control in both houses of Congress. The currency strengthened as much as 1.4 percent against the dollar following the exit polls before falling to 20.137

Traders will also be on the lookout for signs Lopez Obrador will pursue measures he marketed during his campaign, such as public works programs
A South African manufacturing PMI slumped to the lowest level in three months in June. Meanwhile, whole-economy PMI data will be released on Wednesday, and the South African Reserve Bank will post data on gold and foreign-exchange reserves on Friday. The rand suffered its worst quarter in about seven years

READ MORE: This Is Why South African Rand Bore Brunt of EM Sell-Off: Chart

Traders following Brazil's interest rates will be eyeing June's inflation figures. While inflation is low, analysts want to know if the 11-day truckers' strike impacted prices. Brazil's central bank slashed its 2018 growth estimate and forecast consumer prices below target until at least 2020 -- fueling bets that interest rates won't go up any time soon

Stock investors will also follow news on Petrobras as Brazil's lower house is expected to vote on amendments to a bill allowing the state-controlled oil producer to sell up to 70 percent of a major offshore oil development. The government plans to get the bill approved by the Senate quickly to sell surplus oil in an auction that could bring in more than $25 billion in revenue

Poland is readying for June PMI at 9 a.m. on Monday, followed by preliminary inflation data for June. The sell-off in the zloty against the euro drove its 14-week relative strength index above 70 for the first time since January 2016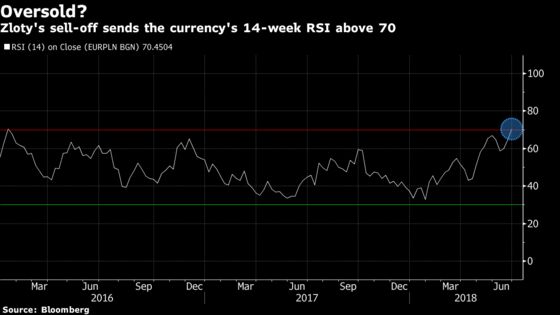 South Korea and Malaysia will release trade numbers. Inflation data from South Korea, Philippines and Taiwan are also due. Currencies from all the nations mentioned declined against the dollar last week
Thailand reported inflation slowed in June to 1.38 percent from a year earlier compared with 1.49 percent the previous month
Indonesia's annual headline inflation eased to 3.1% in June, the slowest pace since December 2016
Central Bankers Have Their Say
Hungary's forint, at a record low against the euro, is in the spotlight. Despite a lawmaker's proposal that central bank Governor Gyorgy Matolcsy should speak in parliament this week, a statement from the regulator suggests he probably won't because the invitation is "politically motivated." The central bank appears to be comfortable with its pledge to keep financing conditions loose

Minutes released on Wednesday may also provide investors with some clarity on the rate setters' intentions

Romania's central bank is scheduled to hold a rate meeting on Wednesday. Investors are assessing whether the next hike will come in July or at a later stage with inflation at the fastest clip since 2013. Any comments from governor Mugur Isarescu on the leu will also be closely watched. The currency, which is managed by the central bank, has remained relatively stable throughout the sell-off