U.S. Inflation Muted in May, Gauge From Central Bank Forum Shows
(Bloomberg) -- A new measure of U.S. inflation presented at the European Central Bank's annual forum last week showed no signs of a pickup when updated with May data, adding to signs that there's not much cause for concern on prices despite the lowest U.S. unemployment rate in 18 years.
The Cyclically Sensitive Inflation index measures a type of inflation central bankers care about most: the kind that responds to changes in the unemployment rate, which they can in turn influence through interest rates.
That index was unchanged at 2.65 percent last month, according to data compiled by Bloomberg News based on Commerce Department figures released Friday. While it's the highest since 2009, that's still below the average levels of the last two U.S. economic expansions -- which suggests a low unemployment rate, at 3.8 percent, isn't leading to much inflationary pressure at the moment.
Fed policy makers target 2 percent annual inflation based on the consumption-linked price index that includes all items. That gauge rose 2.3 percent in May from a year earlier, the most since 2012.
The CSI gauge was developed by Harvard University's James Stock and Princeton's Mark Watson, economists who for decades have helped shape the field's quantitative techniques. It's a response to a puzzle facing global central bankers: the old "Phillips curve" relationship between unemployment and inflation at the heart of their theoretical models doesn't look as solid as it used to.
Their work is similar to a procyclical inflation index published last year by Federal Reserve Bank of San Francisco researchers.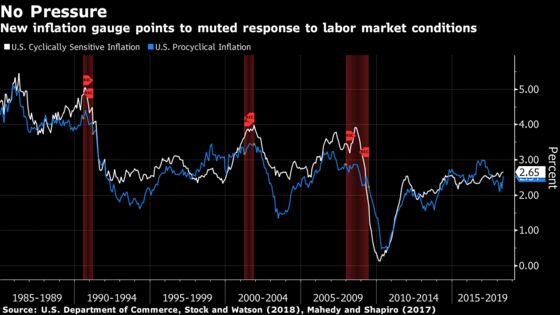 The indexes differ in their components. The CSI gauge includes food, utilities, and things like education, communication, professional and personal care services, while San Francisco's doesn't. The district bank gauge includes prescription drugs as well as goods and services purchased by nonprofits, while Stock and Watson's doesn't.
The second is the weightings. Housing makes up a bigger portion of the CSI gauge, while recreation services and food services and accommodation account for a larger share of the San Francisco Fed index. The differences help explain why the San Francisco Fed gauge picked up in May, though it's little changed over the last four years.