Trade Spat Gives Emerging Markets Bitter Ending for Quarter
(Bloomberg) -- An end-of-week bounce wasn't enough to reverse the drop for emerging markets, whose stocks and currencies posted their worst quarter since 2015 amid escalating trade-war concern and weakness in China.
The MSCI Emerging-Market Index of stocks reached its lowest level since mid-July and fell 1.7 percent on the week. A gauge that tracks developing-nation currencies declined for a fifth week, losing 1.1 percent after earlier sliding to a seven-month low. The Bloomberg Barclays index of EM local-currency government bonds slipped 0.9 percent, the fourth weekly decline.
What you Need to Know About Emerging Markets This Week: Audio
Highlights for the week ended July 1:
The White House moved forward with plans to limit Chinese investment but chose a less confrontational approach, deciding against invoking a rarely used law reserved for economic emergencies

Chinese President Xi Jinping told a group of mostly U.S. and European multinational CEOs that the Asian nation plans to strike back at U.S. trade measures, the WSJ reported, citing unidentified people briefed on the Global CEO Council event
Chinese Vice Premier Liu He said China and the European Union had agreed to defend the multilateral trading system, following talks in Beijing

China set the yuan's reference rate lower for eight straight days; the central bank will cut the amount of cash some lenders must hold as reserves

The central bank said it will use comprehensive policy tools to keep economic development steady and stabilize market expectations
READ: China Expected to Defend Yuan at Key Level as Losses Mount
Yield on 10-year government bond dipped to lowest since April 2017

South Africa's rand approached 14.00 level against dollar before trimming losses on Friday; nation has little room for further interest-rate cuts unless inflation outlook improves, the central bank said
The rupiah reached its weakest level since October 2015; Bank Indonesia stepped up its policy action with a bigger-than-forecast interest rate hike, its third in six weeks; the seven-day reverse repurchase rate was raised by 50 basis points to 5.25 percent
The U.S. will take the unprecedented step of imposing sanctions on a NATO ally when Turkey receives a Russian missile defense system, according to a State Department official testifying before Congress
The Mexican peso was among last week's top performers; Andres Manuel Lopez Obrador was elected as Mexico's first left-wing president in recent times, according to the earliest figures announced by the electoral board after Sunday's election
Turkey's lira led EMFX gains after Recep Tayyip Erdogan won the presidential election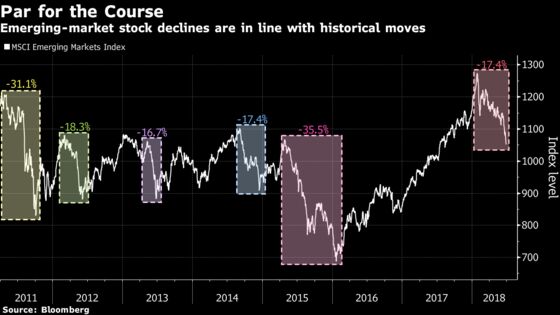 China's yuan dropped to a seven-month low while the Shanghai Composite Index entered a bear market; a leaked report from a Chinese government-backed think tank has warned of a potential "financial panic" in the world's second-largest economy

Picture of economy slowing in second quarter is misleading or even inaccurate, with retail sales and investment actually stronger than official data show, according to the China Beige Book

Thailand's SET Index forms first death cross since 2015; Thai baht extended a 3-week slide; present level is good for economy and exporters will earn more from weaker currency, Fiscal Policy Office Director-General Suwit Rojanavanich said
Jakarta's Composite Index fell to the lowest in more than a year; President Joko Widodo's allies led in key provincial races in elections held across the country, with official results expected July 9

Indonesia posted a trade deficit of $1.5 billion in May, exceeding median estimate of $606 million shortfall
Authorities will find ways to reduce foreign-exchange spending and suppress current-account deficit to improve economic growth without having to worry about trade balance, according to Finance Minister Sri Mulyani Indrawati

Malaysia's ringgit retreated; government is seeking to reduce public debt to as low as 300 billion ringgit ($74 billion) from more than 1 trillion ringgit, Prime Minister Mahathir Mohamad was cited by Channel News Asia as saying

Police seized about 1.1 billion ringgit of items in raids linked to former Prime Minister Najib Razak amid investigations into troubled state fund 1MDB

The Philippine peso was little changed; the nation's inflation appears to have "flattened out" and policy makers are closely watching June data to help guide subsequent interest-rate decision, according to Finance Secretary Carlos Dominguez who sits in Bangko Sentral ng Pilipinas' Monetary Board
India's benchmark S&P BSE Sensex Index rose 7.5 percent in local-currency terms in the quarter ended June 29; by contrast, the rupee hit a record low as a resurgence in crude prices and the emerging-market selloff took a toll on the currency of the world's third-biggest oil consumer
Russia's ruble rose; Deputy Finance Minister Sergey Storchak said investors will return after a shortfall in domestic debt issuance in the second quarter

U.S. President Trump's summit with President Vladimir Putin to be in Helsinki on July 16, White House said
Putin's popularity ratings hit a four-year low on his plan to raise the pension age

Rand extended its losing streak to 5 weeks; South Africa's move to change the constitution to allow expropriation without compensation could deter investment, according to Moody's Investors Service
Hungarian forint reached record low vs euro and government spokesman Zoltan Kovacs said nation's economic indicators, performance give no reason for current rate
Saudi Arabia's Tadawul All Share Index advanced; minimum foreign inflows would be at least $10 billion from passive funds with up to $40 billion total over next year as a result of MSCI's upgrade to EM status, said Khalid Al Hussan, chief executive officer of the Saudi bourse
Polish zloty fell for a third week as Warsaw's WIG20 stock gauge entered a bear market, dropping more than 20% from a January high; CD Projekt, Poland's biggest computer game maker and the best-performing stock in the Polish index this year, led declines on Thursday
Saudi Arabia, Kuwait and the United Arab Emirates are in talks with Bahrain "to enhance the stability of the financial situation" and will complete a program "soon," state-run Saudi Press Agency reported. The statement came after Bahrain's credit risk plummeted on fears it wasn't going to get support

Bahrain then pledged to implement steps to repair its strained finances
Brazil's Ibovespa index of stocks rallied, in contrast to real's the third straight week of decline; central bank slashed forecast for growth this year to 1.6 percent from 2.6 percent

A more challenging global scenario and a damaging truckers' strike made it more difficult to make projections, central bank policy makers said in minutes to their June 19-20 meeting
Former Army Captain Jair Bolsonaro led the presidential field with 17 percent polling support vs Marina Silva's 13 percent in a scenario where Luiz Inacio Lula da Silva is banned, according to a survey by Ibope
The national monetary council tasked the central bank with targeting inflation of 3.75 percent in 2021, with a tolerance range of 1.5 percentage points in either direction

Argentina's peso was the worst performer; economic activity posted its largest contraction in April since President Mauricio Macri took office in December 2015, falling 2.7 percent from March

The central bank kept its policy rate unchanged at 40 percent as expected
Argentina's century bond, which celebrated its one-year anniversary last week, once again sold off with yields reaching an all-time high of 9.31 percent

The Mexican peso rose for a second week; Alfonso Romo, economic adviser to Mexico's presidential front-runner Andres Manuel Lopez Obrador, told Reuters the peso is undervalued and promised to strengthen it

Mexican equities and peso-denominated government bonds also advanced
| | | |
| --- | --- | --- |
| Monday, July 2 | Indonesia, Thailand, Poland | June consumer price index |
| | China | June Caixin manufacturing PMI |
| Tuesday, July 3 | Turkey, South Korea | June consumer price index |
| | Chile | June trade data, May retail sales |
| Wednesday, July 4 | South Korea | June foreign reserves |
| | Hungary | Central bank minutes |
| | Brazil | May industrial production |
| | Romania  | Central bank rate decision |
| Thursday, July 5 | Philippines, Taiwan | June consumer price index |
| | South Korea | May current-account balance |
| | Malaysia | May trade data |
| Friday, July 6 | Indonesia, Philippines | June foreign reserves |
| | Brazil | June inflation IPCA |
| | Chile  | June consumer price index |