It's Not Just June, Europe Should Expect a Sizzling July
(Bloomberg) -- After a sizzling June with heatwaves in the U.K., Scandinavia and northern France, next month is forecast to stay hotter-than-normal with the sunny weather seen boosting solar output and cutting power prices.
An area of high pressure centered over northern Europe in June will shift more toward the central region, boosting output from solar panels in Germany, Europe's biggest power market, according to brokerage Marex Spectron Group Ltd. All five forecasters in Bloomberg's monthly weather survey agreed that next month will be warmer-than-usual for most of the continent.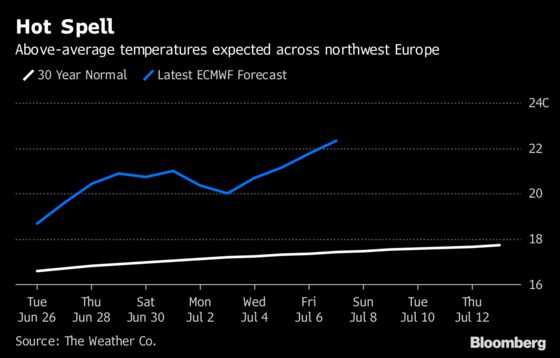 Sunny weather tends to have a big impact on power prices in Germany. The technology accounts for about a fifth of its total capacity and the nation has installed more panels than any other European country. While the hot weather boosts power demand for cooling in the south of the continent, the potential consumption increase isn't as pronounced during hot weather in northwest or central parts.
"We're probably looking at lower prices," said Giacomo Masato, an analyst and meteorologist at Marex Spectron in London. "The high pressure moving further south will maximize solar output in Germany."
German solar output is forecast to peak at a record 29,170 megawatts early afternoon on Sunday, according to a Bloomberg model. That's just above previous record of 28,875 megawatts on May 6.
The boost could temper daily prices that traders currently expect will be a third higher in July than last year, according to broker data on Bloomberg. That would provide some respite for anyone from automakers to steel producers who are facing higher costs as China's thirst for coal and gas has pushed up rates this year.
Read more here about Europe's rising power prices
A heatwave is defined as when the daily maximum temperature exceeds the average maximum reading by at least 5 degrees Celsius (9 degrees Fahrenheit) for five or more consecutive days, according to the World Meteorological Organization. This will continue to be the case in major cities across in the U.K., France and areas of Germany into the beginning of July, said Rebecca Fuller, a meteorologist at Radiant Solutions.
"Heatwave conditions in western Europe will taper off after the first week of July, but readings are forecast to remain warmer than normal," she said.
Despite the high temperatures, June wasn't as warm as last year for many parts of Europe, with the intensity moderated by showers and thunderstorms over the south, according to Matt Dobson, an energy meteorologist at Meteogroup U.K. Ltd.
Forecasts are mixed as to whether the Nordic region will get any significant rainfall next month. The area is in dire need of showers to help boost its hydro power reserves amid the biggest deficit since at least 2010. Power for the third quarter has surged to a record on Nasdaq Inc.'s commodity market.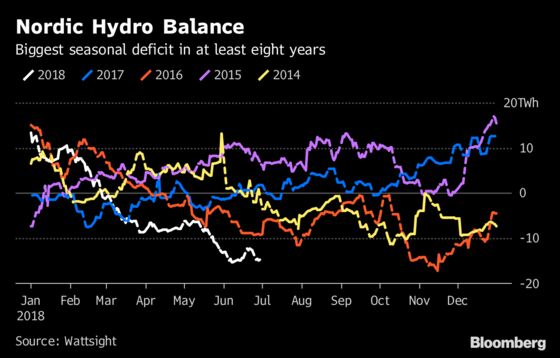 The Weather Company forecasts near-normal precipitation for Scandinavia next month as a low pressure will edge in from the northwest. But Radiant identifies southern Norway, southern Sweden, the northern European mainland and the Baltics as most at risk for drought conditions, with all these areas seen remaining drier than normal over the next two weeks, according to Fuller.